Governor Bert T. Combs
Statue Project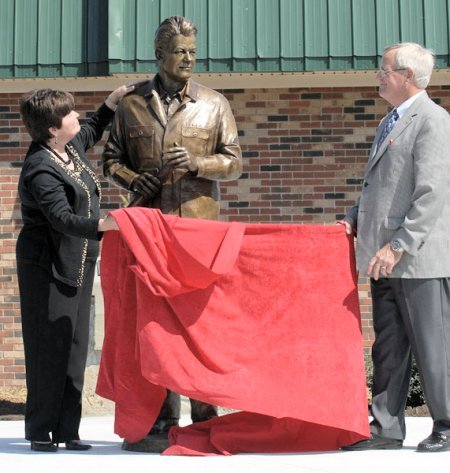 Sara Walter Combs, Chief Judge of KY Court of Appeals, and Project Director Joe Bowen unveil Governor Bert T. Combs Statue in Stanton, KY Photo: Tim Webb- www.timwebbphotography.com
---
Dedication and unveiling of the statues honoring Governor Bert T. Combs
April 20, 2007
in Stanton and Prestonsburg, KY.
Both Statues are now available for viewing. Please come by and enjoy a wonderful tribute to a truly great Kentucky Statesman.
---
Out of sincere respect and admiration for former Governor Bert T. Combs, the people of Kentucky have commissioned two life-sized bronze statues to honor his memory and legacy. The first statue is located in Stanton, KY, just a few hundred yards from the Bert T. Combs Mountain Parkway. The second is located at the Courthouse in Prestonsburg, KY.
---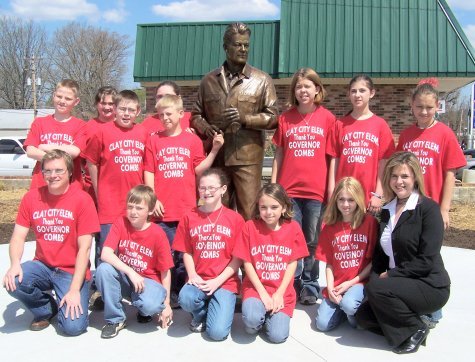 ---
Following are two articles by Joe Bowen that appeared in "The Kentucky Explorer Magazine." These articles are published by permission.
---
Part I Of Two Parts:
Bert T. Combs Had Progressive Administration As Governor
Education And Highways Were His Top Priorities For Kentucky
By Joe Bowen - 2004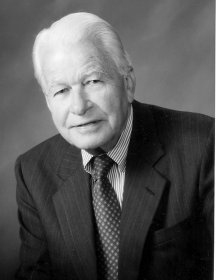 Bert T. Combs, 1911-1991
Governor of Kentucky 1959 - 1963
When Bert T. Combs ran for governor in 1955 my father, Bill Bowen, was a staunch supporter, along with most of our friends and relatives. Combs lost. Then in 1959 he ran again and became the governor that brought Kentucky, kicking and screaming, into the modern age. For most of us in Eastern Kentucky, Combs became an icon, a governor of the working class people.

It was back then that I became interested in Bert T. Combs. Now as a 61-year-old man I have read hundreds of news clippings, official papers, and two books about Combs' life. He lived on his farm, Fern Hill, only a few miles from my home in Powell County, and I regret that I did not get to know him personally.

Bert T. Combs was born on August 13, 1911, on Beech Creek in Clay County, in the heart of the Eastern Kentucky mountains. Combs was reared in a poor family of seven children. His dad, Stephen Combs, ran a sawmill and farmed to make ends meet. His mom, Martha Jones Combs, was a schoolteacher. She was young Bert's inspiration to get a good education.

Bert attended Oneida Baptist Institute, and at age 15 was valedictorian at Clay County High School. He later graduated first in his class at Cumberland College. He saved his money from a job with the Kentucky Highway Department so he could attend the University of Kentucky Law School. There he graduated second in his class in 1937.

Bert first practiced law in Manchester. After realizing that family and friends expected him to work for free he moved to Prestonsburg. While living in Prestonsburg, in September 1942, he enlisted in the U. S. Army as a private. In early 1945, as a lieutenant, he went overseas to serve on General Douglas McArthur's staff. He later became chief of the War Crimes Department Investigating Section in the Philippine Islands. For his work in apprehending and prosecuting Japanese war criminals, Captain Combs received the Bronze Star and was decorated by the Philippine government.

After the war Combs came back to practice law in Prestonsburg. In 1951 Governor Weatherby appointed Combs to the Kentucky Court of Appeals, the highest court in the state at the time. When the office came up for election Combs beat the former and popular governor, Simeon Willis, for the office.

In 1954 Governor Wetherby and Governor Clements handpicked Combs to run against A. B. Happy Chandler for governor. Combs, with his "mountain twang" and sincere and sometimes shy demeanor was no match to the backslapping, baby kissing, natural campaigner, "Happy." So he lost.

Not much was seen of Combs for the next four years. But Combs was not idle. When election time for the governor's office rolled around in 1959, Combs was ready. He knew what he wanted to do for Kentucky. Wilson Wyatt, a highly-respected attorney from Louisville, planned to run for governor on the Democrat ticket, also. It was suggested that Combs run as Wyatt's running mate, and together they could beat "Happy" Chandler's man, Harry Lee Waterfield. After a poll showed that Wyatt couldn't beat "Happy's" man, but Combs could, the two men agreed that Combs would run for governor and Wyatt would run for lieutenant governor. They won the primary and beat their Republican opponent in the fall election by the largest margin ever, 280,000 votes. Combs became the first governor from Eastern Kentucky since 1927.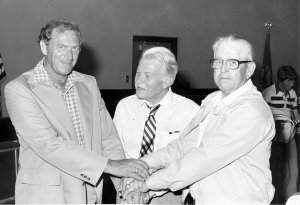 Bert T. Combs, governor of Kentucky during 1959-63, greeted political figures of Powell County. Edwin Rose, left, former county judge of Powell County; and Billy Joe Martin, county judge of Powell County at the time of this photograph, united with Governor Combs with a joint handshake. Barely visible in the background is Forest Meadows, future county judge of Powell County. (Photo courtesy of Floyd Anderson, 70 Allen Drive, Stanton, KY 40380.)
Combs, as the cliché goes, "hit the ground running." His number one priority was to advance Kentucky's educational system. Speaking to the Frankfort Rotary Club, September 11, 1963, Combs said, "When we entered the 1960s our nation was at the summit of world leadership. It was obvious that if Kentuckians were to play a significant role in that leadership, we must be awakened to our responsibilities and opportunities.

"We gave our attention first to education, because every survey of public opinion indicated that education of children held first place in the hearts of Kentuckians. I think most Kentuckians feel that if there is a single key which can unlock the door to a brighter future that key is education."

To advance education and accomplish other visions that Combs had for Kentucky would take money. He recommended a three percent sales tax, which a small portion would go to pay a veterans' bonus. With the sales tax he gave all Kentucky veterans a bonus and pumped an additional $267,870,792 into public education from 1960 to 1964. This was the key Governor Combs applied to the lock.

During Combs' four years teachers' salaries nearly doubled, helping to keep good teachers in Kentucky. Five hundred one-room schools were eliminated. Thirty new high schools and 102 new elementary schools were built, and additions were made to 87 high schools and 181 elementary schools. This created 4,653 new classrooms in Kentucky.

During Combs' years as governor Kentucky's support for higher education increased by 115%. He started the Community College System and Kentucky Educational Television (KET) that both serve our citizens so well today.

Combs' second priority was highways. The Federal Highway Program, the interstate system, was well-under way when Combs became governor. So he "hit the ground running,' again. As the interstates' construction was moving north and south through Kentucky, Combs was determined that Kentucky would not embarrass itself because of traffic bottlenecks due to unfinished four lanes. Kentucky was actually ahead of other states in building these highways. Combs felt that we also needed four lanes traveling the state east and west. So during his term he finished the Western Kentucky Turnpike and the Mountain Parkway in the east. Before he left office the Bluegrass Parkway was well on its way into central Kentucky.

The Mountain Parkway was most dear to his heart though. Eight years after Combs left office Governor Louie Nunn honored Combs by officially naming the two ribbons of concrete the Bert T. Combs Mountain Parkway.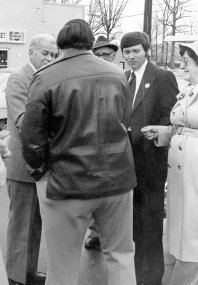 During Bert T. Combs' term as governor of Kentucky (1959-63) his top priorities were education and roads. He started the Community College System and Kentucky Educational Television (KET) that both serve our citizens so well today. The Mountain Parkway, which runs through Clark, Powell, Wolfe, and Magoffin counties, was most dear to Governor Combs. Eight years after he left office the Bert T. Combs Mountain Parkway was named in his honor. In the photo above the Governor, left, visits with citizens of Powell County in Stanton, Kentucky, in 1979. Pictured are: John Brewer, with back to camera; Shelby Martin, wearing hat; Floyd Anderson; and Reba McQueen. (Photo courtesy of Floyd Anderson, 70 Allen Drive, Stanton, KY 40380.)
Before he was elected governor Combs met many times with Bill May, a highway engineer from Pikeville, and discussed both their dream of building a highway for the Eastern Kentucky mountain people. The highway was being designed before the election. There was a rumor that May asked Combs how they would get paid? Supposedly Combs told him, 'You won't if I don't get elected governor.'

The Mountain Parkway was known as a developmental highway: One of the first in the country. Generally, existing traffic flow has to be great enough to justify the financing of a new highway. That kind of traffic flow between the mountains and the Bluegrass didn't exist. Combs, undaunted, convinced the powers that if Kentucky would build the Mountain Parkway the mountain people would drive to the Bluegrass to shop and do business, and the central Kentucky people will visit the mountains. Combs and his financial staff had to meet with six different financial institutions in New York before they found one that would help Kentucky build the Mountain Parkway. The tolls paid for the highway ahead of schedule, and the toll plazas were removed in 1985.

During the Mountain Parkway dedication at the Campton interchange on May 8, 1963, Combs said, "This highway, with its extensions, will reveal to our visitors some of the most beautiful scenery in America, the southern Appalachian Mountains. And the visitors will come, legions of them, now that the barriers of isolation have been pierced by these rapiers of concrete. They will come to behold the grandeur of the hills and to enjoy the hospitality of the mountain people.

"We hereby dedicate the Mountain Parkway as a lasting symbol of the perseverance and hopes of the mountain people and to the continued progress and well-being of all the people of our Commonwealth."

In reading through the Bert T. Combs papers I have found several places where he had told someone, "I would like to leave some sort of track, showing that I've been here." And tracks did he leave for all Kentuckians, but especially for his mountain people.

Another one of his projects of the heart was the Kentucky State Parks system. Bert believed that with the natural beauty so prevalent in Kentucky, the rich history, and the hospitality of the state's people, we could become a destination for millions more tourists each year. He believed that the parks could build resort hotel accommodations that were comfortable and hospitable, yet affordable to the American family. So with monies appropriated he changed a park system that was mostly campgrounds into resorts. He enjoyed visiting the parks after some of the hotels were built. He took great pride in what they would do for the economies of each community where they were located. His visits were somewhat like an inspection.

He visited one particular park. The trees were awesome driving into the entrance. The creek was clean. The hotel was just what he expected. Inside the lobby was beautiful with the wooden floors and the massive stone fireplace. He sat down in the dining room, admiring the furniture, the rustic chandeliers, the table linens, and the view outside overlooking a mountain valley. Then the waitress walked over to his table. She had a toothpick sticking out the side of her mouth and asked, "Whatcha ont?'

I guess he figured he couldn't get everything perfect.

Combs felt that if he was with his people he could better listen and learn what the people expected out of their government. He took the office of the governor to the people 41 times, the only political project of its kind in the United States. Combs and his staff actually set up shop in 41 different locations and invited the people to come in and tell them what was on their minds and suggest possible solutions. The staff didn't completely enjoy the experience but Combs knew it was important. He was at his best with the people.

Out of these meetings came the idea of over 1,000 litter barrels marked and placed along Kentucky highways. Ponies and saddles were bought for orphans, rowboats for the boys' camp near Kentucky Dam, and coloring books for the mentally impaired. He moved the Derby breakfast, which had been for the governor's cronies in the mansion, to tents on the lawn, and everyone was invited. The Derby breakfast is still done the Combs way.

He built amphitheatres in some of the parks and encouraged live dramas. He even encouraged his pretty teenage daughter, Lois, to work as a waitress at Cumberland Falls State Park and Kentucky Dam.

Once a year he invited journalists from all over the state to meet with him and his staff in Frankfort. They were to ask any questions they wanted, and they would be answered objectively.

Combs was ridiculed harshly for building the floral clock between the Capitol and the Annex. Even some of his own people advised him not to build it. They said it would be a political nightmare. The clock turned out to be one of the most popular tourist attractions in Frankfort and still is after 43 years.

Combs' executive order banning discrimination may have come out of one of the 41 meetings. It also may have come from the idea that Combs, being a mountain man, knew what it meant to be a member of a minority group. He polled the House and Senate to see if a law could be passed to end discrimination. When he knew that was not possible he signed an executive order to end discrimination. He had often said that, "An end to segregation is coming and that those who fight it are only spreading bitterness."

President Kennedy wrote Combs a personal letter thanking him for stepping forward and doing what was right. The subject weighed heavily on Combs' thinking. In March 1963 Combs addressed the Conference for Brotherhood in Chicago.

He spoke, "Equality and cooperation are the lamps of civilization. As civilized people, then, we Americans must accept the challenge and lead the way by lighting the torch of freedom for oppressed people, both at home and all over the world.

"The whole universe knows first-handed that while America attempts to provide food, comforts, and protection for most of the distant people of the world, it still refuses to provide here at home the most vital of all constitutional rights, first class citizenship for everyone. But the time has come when the opponents of decency and right must recognize the inevitability of change.

"At the beginning of our great nation Americans assumed a mortgage on their freedom, but after almost two centuries we are in the throes of bankruptcy, because we are behind on our payments to the United State Constitution.

"In this day and time, freedom has become more than an academic word. It is no longer sufficient merely to talk and write of the ingredients of the good life and the dignity of man. In this grave hour in which you and I are privileged to live, fraught periodically with great pride and great promise, the value and durability of full citizenship rights are to be found more in our actions than our words, in our collective efforts and individuals beliefs."

Writer's Note: Bert T. Combs' last chapter and shining hour was yet to come. Check out the September issue of The Kentucky Explorer to find out more about Bert Combs' contribution to our society. Also, watch for some exciting news regarding an event concerning Bert Combs that will be happening this year.
---
Editor's Note: In the July-August 2004 issue of The Kentucky Explorer Joe Bowen shared the first part of a two-part series of Bert T. Combs' progressive administration as governor of Kentucky. Combs' top priorities for the state were education and highways. For most of the residents in Eastern Kentucky, Combs became an icon, and was considered a governor of the working class people.
Now, Joe Bowen of Taylorsville, Kentucky, continues with part two of his story with exciting news.
---
Part II
Governor Combs To Be Honored With Memorial In Powell County
Fern Hill On Cane Creek Was The Beginning Of A More Relaxing Time For The Governor
By Joe Bowen - 2004
In the first article about Bert T. Combs I ended with, "Combs' shining hour was yet to come." But before that shining hour Combs had heartaches like most of us.

In 1954 U. S. Senator Earl Clements and Governor Lawrence Wetherby decided that Combs could be the man to become Governor of Kentucky and unite the Democrat party that Happy Chandler was splitting into factions. One night they called Combs to the Governor's Mansion to discuss the possibility. Combs told them that he couldn't see himself as governor. He also told them that he had a little boy who was handicapped and didn't want anything to interfere with his son's happiness.

In an interview with George W. Robinson (Bert T. Combs, An Oral History), Governor Lawrence Wetherby said that Combs had problems over the boy. Wetherby said they continued to talk about Combs running for governor and he would come back to the boy. "Well," Combs said, "I'm just a little reluctant because of the fact you get into a campaign and people will talk about it." Combs was also worried about how Tommy would be cared for. Maybe a little aggravated, Wetherby finally told Combs, "You can do a lot more for him as governor than you can by not being governor."

Combs was finally convinced and agreed to run. (He lost in 1955 to A. B. "Happy" Chandler, but ran again in 1959 and won.) Tommy stayed a major part of Combs' life to the end. Combs had birthday gatherings in honor of Tommy late in life, while living at his farm, Fern Hill, in Powell County.

Combs worked hard as governor, introducing 184 new and worthwhile programs in Kentucky. It was extremely important to Combs that the person who followed him into the governor's office would continue those programs. So he backed Ned Breathitt for governor. Breathitt had helped Combs during his governorship. Breathitt won and the election cycle for the 1967 governor's race was coming up and a lot of people wanted Combs to run again. They were sure he would win because he and Breathitt had grown so popular. Combs followers knew that the successes of the state government of the past eight years could go on for at least four more. Combs agreed at first to run, but at the last minute changed his mind. When asked why he didn't run, Combs replied, "By reason of my family situation, personal problems, and my age. I decided I wanted to go with the court."

Governor Combs' wife, the former Mable Hall, a mountain woman herself, didn't want Combs to run again. So he didn't. A short time after that, in 1969, Bert and Mrs. Combs divorced.

In January 1967 Combs was nominated to serve on the Federal Court of Appeals. In April, Combs was endorsed by the United States Senate Judiciary Committee and confirmed by the United States Senate as Federal Appeals Judge of the Sixth Circuit. The Courier-Journal reported that this judgeship removed Combs from Kentucky politics and that he was one of the "most colorful, popular, and respected figures in Kentucky." He would serve in Cincinnati, removing him from the political action of Kentucky that he so enjoyed.

Later Combs said the "Federal Appeals Court is somewhat isolated." In Robinson's oral history, Tommy Carroll said, "Combs quickly became a very lonely man in Cincinnati. He was miserable in that position."

Many people thought that Combs resigned the court to run for governor in 1971. Combs later said that a long-time friend, John Tarrant, had encouraged him on several occasions to come into his law firm as a partner, which he did.

Friends across the state had encouraged him to run for governor in 1967 and 1971. His second wife, Helen Rechtin, from Louisville, was also encouraging him in 1971. He ran for governor in 1971, and to the dismay of thousands lost to Wendell Ford.

That series of events, not running for governor in 1967, the divorce from Mable Hall, always worrying about his son's (Tommy) well being, sitting in a lonely seat of the U. S. Court of Appeals, losing the 1971 election, and then a second divorce, were major bumps in the road to a great Kentuckian. But things would get better.

He settled in as senior partner of Wyatt, Tarrant, and Combs Law Firm; the largest in Kentucky.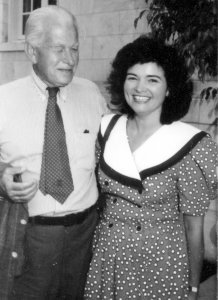 Bert T. Combs hired Sara Walter as an assistant in his law firm in 1979.The couple was married December 30, 1988. The ceremony was held at Fern Hill, the beautiful farm and log home where the couple resided, in Powell County. (Photo courtesy of Sara Walter Combs.)
In 1979 Combs hired an assistant lawyer, Sara Walter, to help with his workload in the law firm. Their mutual admiration developed into a deep and abiding love. Combs had bought a farm in Powell County on Cane Creek. He wanted to live in the mountains close to his grandchildren in Knott County yet have a comfortable drive to his Lexington law office.

Combs assigned Sara the job of building him a home on Cane Creek. She immersed herself in the project and became the construction manager and assistant to the architect. After a year the result was an elegant, log home nestled at the foot of a mountain overlooking Cane Creek and its lush, green valley.

Sara named the farm and home Fern Hill after a poem written by Dylan Thomas. To Combs the poem described Fern Hill and what it was and what it would become. Sara Walter Combs told The Clay City Times in 1992 that Fern Hill was "time-out from time itself for the judge."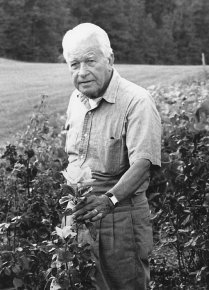 Governor Bert T. Combs stands in his beautiful rose garden, about 1989, at Fern Hill in Powell County. Combs worked hard as Kentucky's governor. He introduced 184 new and worthwhile programs during his administration. (Photo by Tim Webb, Richmond, KY)
There, with Fern Hill, the Lexington office, and Sara Walter at his side, Combs was the legal council for 66 of Kentucky's poorest school districts, without financial compensation. They sued the governor of Kentucky and the General Assembly claiming the Kentucky educational system was unconstitutional.

The representatives of these 66 school districts convinced Combs, according to Combs' article in the Harvard Journal on legislation, that Combs, "at one time claimed to be Kentucky's education governor." They also reminded Combs that he "was now holding himself out as a top-notch lawyer." Combs agreed on both accounts.

In the Harvard article Combs said, "they also reminded me that Kentucky's General Assembly had never (at least within the memory of any living person) adequately financed the state's public schools. The results, according to them, was that the children of Kentucky were being deprived of their constitutional right to a decent and equal education, and that we as onlookers were wasting our "seed corn" for the future."

Sara Walter, Combs' closest confidant and legal assistant, worked on the lawsuit with Combs for months and months, preparing it to be presented to the court. She also helped Combs write the very enlightening and, at the end, humorous article for the Harvard Journal.

The suit was filed in 1985. According to the Harvard account the courts determined Kentucky's elementary and secondary system was inadequate and inefficient, the opportunity to obtain an adequate education is a fundamental right protected by the Kentucky Constitution, and the wide disparity in funding between the affluent districts and the poor districts was discriminating to the children in the poor districts; violating the equal protection clause of the 14th Amendment to the United States Constitution and Section 183 of the Kentucky Constitution.

The court's decision was taken to the State Supreme Court, where the lower court's decision stood. Because of this suit and the court's decision, we have the Kentucky School Reform Law.

This law completely changed Kentucky's educational system for the better.

I would recommend that anyone interested in education in Kentucky read Combs' article in the Harvard Journal on Legislation, Vol. 28, No. 2, dated Summer 1991, and those interested in Combs should read Robinson's oral history mentioned above.

Shortly after the oral argument in the Supreme Court, Bert and Sara were married on December 30, 1988, at their log home, Fern Hill, in Powell County.

In several articles the Courier-Journal and the Lexington Herald quoted Combs as saying that as a student, he attended schools "that had no library, no laboratory, a very sketchy curriculum, poorly paid teachers, inadequate buildings, all the rest; and I am very conscious of the fact that it has been a handicap to me through my whole life."

I couldn't imagine Bert Combs, the great man that he was, feeling inadequate. I asked Sara Combs, who is now Chief Judge of the Kentucky Court of Appeals, if this Combs statement was accurate. She assured me that he lived with the thought his entire life.

The move to Fern Hill was the beginning of a more relaxing time for Bert Combs. He was still practicing law in Lexington, enjoying Fern Hill, and doing light farming.

Then tragedy struck. It was December 3, 1991, cold and rainy. Combs called his wife, Sara, from Lexington and told her he would be a little late getting home. Darkness fell, the river was rising, and he had not arrived home. A worried Sara began calling friends and neighbors. No one had seen or heard from him since he left his office in Lexington. Those in Lexington knew he was headed home. Soon hundreds of people were hunting for Combs.

Bert Combs' route home took him off the Bert T. Combs Mountain Parkway at Stanton; onto Highway 15, a drive of three miles; then a left at Rosslyn, on his way to Cane Creek. At Rosslyn he would drive across the lane which crossed Red River. On that dark night, due to heavy rain, the Red River was flooding the road near the bridge.

Most of us in the valley, when we see the water rising over the road at Rosslyn, we stop and decide, "Yes it's safe to cross, or no it's too deep." We all do it and several times each year someone has to be rescued from their vehicle.

While everyone was looking for Combs that night they wouldn't utter the possibility that most were thinking.

After daybreak his car was spotted partially submerged, but Combs wasn't in the car. His body was found one-quarter-of-a-mile down the river. Rob Matthews, Stanton Chief of Police was one of those who found him. I asked Rob, "Did he drown?" He answered, "No, he had gotten out of the car, got his coat and shoes off, and probably was swimming." Rob continued, "I found him out of the water, and that 80-year-old man was still holding on to a two-inch tree." Hypothermia had taken the life of this tough mountain man.

After Bert Combs' funeral the Courier-Journal reported, "Bert Combs was no saint." John Ed Pearce, a long- time friend of the former governor reminded the mourners with good humor, "He was a man in all that word connotes. A man who loved good books, good talk, and good stories. A man who loved deeply."

After part one of this article appeared in The Kentucky Explorer I received a letter from David L. Jackson of Frankfort. Mr. Jackson, at one time, was president of Oneida Institute, and his wife was a distant cousin of Governor Combs. One year Combs was their commencement speaker. Mr. Jackson wrote Combs a thank you letter and told him, "because I was married to a Combs, perhaps, I was prejudiced, but, I thought you were the best governor that Kentucky ever had."

Jackson said he received a reply a few days later. It simply read, "You should be prejudiced," signed, Bert T. Combs.

In Robinson's oral history, Wendell Butler, former state superintendent, told the story on the campaign trail when Combs met a man and asked for his vote. The man said, "Judge, I wouldn't vote for you if you were Saint Peter." Combs shot back, "You couldn't vote for me. You wouldn't be in my district."

While Combs held the office of governor he became a beekeeper. He cared for five stands of bees on the mansion grounds. When he left office and set up residence in Lexington he took the bees with him. The bees began to fail in producing honey. To a friend he commented, "I sorta expect that my queen bee has taken up with a horse fly."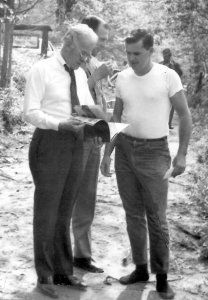 Joe Bowen, right, met Governor Bert T. Combs at the Red River Gorge in 1971. Governor Combs asked Bowen not to leave Powell County, for he was needed there, but he did leave for 31 years. Bowen is planning to move back to Powell County within the next year and plans to help the people however God sees fit. (Photo courtesy of Joe Bowen.)
Joe Bowen, P. O. Box 425, Stanton, KY, 40380, shares this article with our readers.
---
Powell County native, Joe Bowen, originated the idea for the Bert T. Combs statue and is the primary driving force behind the project. Joe was also instrumental in the Woody Stephens statue that now stands at the Powell County Courthouse.