Back to Bert T. Combs Main Page
Special Thanks to Joe Bowen of Powell County whose vision, dedication, and perseverance made these memorials to Governor Combs a reality.
We also thank KY Representative Richard Henderson for introducing House Joint Resolution 84 that allowed the placement of the Stanton statue on state property. The Bill passed unanimously in both House and Senate. Thanks to Senator Tom Jensen for bringing the bill before the Senate and for Senators Julian Carroll and Robert Stivers for speaking so eloquently in its behalf.
Another tip-of-the-hat to Floyd Clay Anderson for help, problem solving, and advice throughout the entire project.
The following list of people and organizations contributed to the Governor Bert T. Combs Memorial Statue located in Stanton, KY. Furthermore, they generously contributed the artwork valued at $35,000 so that a second statue could be built. Now, a third statue is located in the city of Manchester, KY.
These names are inscribed on a bronze plaque on the front of the rockwork display which is located directly behind the statue. Thank you.
Special Thanks to Joe Bowen of Powell County whose vision, dedication, and perseverance made these memorials to Governor Combs a reality.
---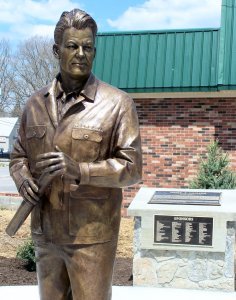 ---
GOLD
---
AMVETS Post 67
James F. and Betty Bloom
Joe and Barbara Bowen
Powell County Industrial Development Authority
Bill and Lois Weinberg
Whitaker Bank
Bill Sturgill
Wyatt, Tarrant & Combs, LLP
---
SILVER
---
Mr. and Mrs. Floyd C. Anderson
Appalachian Heritage Alliance
Robert P. Atkinson
"Cappie" Billings
Darrell, Jennifer, and Logan Tanner Billings
Dellmus and Irene Bowen
Steven L. Bowen
Cordis Brown
Sara Walter Combs
Tim "Beanie" and Sonya Crabtree
Dutch's Chevrolet Ford Mercury
Richard L. Fain
Hinkle Construction Company
Ron Hub
John Kelly
Juanita Faye G. King
Dr. Paul and Pat Maddox
Eddie and Susan Martin
Robert McQueen
Gale and Judy Means
Jerry Miller Wood Products LLC
David and Janine Musser
Dr. Charles G. Noss
Joanne and Charlie Owen
Bud Parks
Peoples Exchange Bank of Stanton
Powell County Fiscal Court
Red River Ranch, Inc.
Rosa's Garden Center
Glenn Salyer
John and Judy Shircliffe
City of Stanton
Tanner Chrysler Products
The Walker Company
TOUR Southern and Eastern Kentucky
Watson Building Inc.
Jed Weinberg
Tomas Weinberg
Zach Weinberg
Richard and Valerie White
---
BRONZE
---
Tim and June Abner
Rachel D. Adkison
Allen's Hardware
Myers Arnett
Blake Adams Engineering
Shane Bowen
Bert and Robin Brumett
Caleb Crabtree
Ernest and Betty Crabtree
Delta Natural Gas Company
James Ed and Katie Dennis
Donna R. Hale
Hondo Hearne
Richard and Carol Jean Jett
Jim and Judy Potts
Joseph W. Prather and Jennie C. Prather
Salyersville Kiwanis Club
Sheryl G. Snyder
Vera C. Stamper
Dairy Queen of Stanton
Jeff Stiles
Carl Wells
Lillian D. Williams
To Each and Every Contributor, THANK YOU!!