Introduction of Mr. Fontaine Banks by
Mr. Joe Graviss of Versailles, KY
History has proven one of the most important decisions Governor Combs made was the designation of Fontaine Banks as his Chief of Staff.

Most of you have known Fontaine since before I was born, but since he has come into my life, I have learned a great deal about politics and public service.

We are fortunate indeed to have him here today. He has kept alive important aspects of Kentucky's history not discussed in other works.

Many times it's these subtle nuances of history that add texture to the recorded events of times gone by.

Fontaine also served Governor Breathitt as Chief of Staff—the only Kentuckian to serve 2 Governors back to back as Chief of Staff—and live to tell about it!

But it was Governor Combs that instilled within him an intense desire to serve.

In his career in state government Fontaine has served four Governors in cabinet positions.

In addition to Governor Combs, Breathitt, Collins, and Jones, he has been an invaluable advisor to Alben Barkley, Happy Chandler, Wilson Wyatt, Robert Kennedy, Lyndon Johnson, Carl Perkins, and numerous other state and local officials.

He is still regularly sought after by Democratic and Republican friends alike both in state and around the nation.

This native Pike Countian is also a heavily decorated Marine Colonel, a loving and devoted husband and father, an active grandfather, and devout Methodist.

So we can feel a little more complete knowing the extraordinary yet humble life of one of Kentucky's most prominent public servants, Governor Combs Chief of Staff, key political advisor, and close friend Colonel Fontaine Banks is with us today.

Thanks, Fontaine, for helping Governor Combs make Kentucky an even better place to call home.
---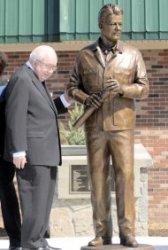 ---
Dedication Speech by Mr. Fontaine Banks
Governor Fletcher, Judge Sara Combs, Joe Bowen, my fellow Kentuckians:

Thank you,

It was my honor and privilege to be Governor Combs Chief of Staff, key political advisor, and most important to me—friend.

Sometimes I also played the part of cheerleader, or villain.

Whatever role I played, it was to serve the people of the Commonwealth and this great man who only wanted to do good for his beloved Kentucky.

Governor Combs had complete trust and confidence in my abilities to assist him and he gave me complete and extraordinary authority to do whatever job he needed done.

I had complete trust in his integrity and goodwill for the whole state. We were a great team and I think back on those years of mutual trust, admiration and respect with great fondness.

Bert Combs' desire was to better the quality of life of all Kentuckians. He succeeded.

Governor Bert Combs brought Kentucky into the Twenty-first Century. It was Governor Combs who dreamed of the Mountain Parkway, the Bluegrass Parkway, a merit system for Commonwealth employees, the best Resort Park System in the United States, the Floral Clock, the Community College System and many more programs that helped the citizens of the Commonwealth.

Success can be defined in these great accomplishments for which he would score well. It can also be defined in the type of person you are, the character you exhibit.

Governor Combs' success was earned honestly, not at the expense of others or unjustly. He was a gracious man that cared deeply about others, their well being and this great land we call Kentucky.

He was such a success, I call him a hero.

He was a humble hero who everyday got up and thought about what good can be done today that would have a positive impact on all Kentuckians and then set about getting it done working with others on both sides of the aisle to bring that goodness to everyone.

He is everyone's hero from humble beginnings to great accomplishments.

And so we are here today to dedicate this brilliant statue saluting this great Kentuckian that brought so much to all of us then, now and well into the future. And what a fine statue it is.

But I would say Governor Combs would not want us to be congratulating him, his family or lovely wife Sara today at all. He would be gracious and sincerely appreciate the recognition.

But he wouldn't be thinking about himself. He would be thinking about Kentucky.

He would be thinking—"how can we use this to help our fellow Kentuckians to a brighter tomorrow?"

That's just the type of man he was, gracious and unselfish, always wanting to do what he could to improve the quality of life for our great Commonwealth and her citizens.

So I say we are here today to re-dedicate ourselves to the vision, the goodness, humility, passion, and sincere caring for improving the lives of those around us like Governor Combs worked everyday to do.

To helping our fellow Kentuckians feel better, be better and grow.

That is what Governor Combs would want. That's what I want. I'm sure that's what Sara wants.

And so today his spirit, his touch, his memory rest peacefully at his and Sara's beloved and beautiful Fern Hill.

As I approach that special Homeplace I feel his presence, and my body and soul are at ease while I'm there; for I know he is there also just as he embodied here in this glorious and well deserved statue.

So let's go from here renewed in our desire to be that humble hero getting up everyday not thinking of ourselves, but thinking of doing good for others in these trying times.

Being a little more unselfish, a little kinder, a little more patient, understanding, and forgiving.

And a lot more in love with Kentucky and what she means to all of us.
Thank you and God bless.
-April 20, 2007
---