Governor Fletcher signs Joint House-Senate Resolution on March 21, 2007
In the final days of the 2007 Kentucky legislative session, House Joint Resolution 84, sponsored by State Representative Richard Henderson, passed unanimously in both the House and Senate. This cleared the way for the placement of the statue of former Governor Bert T. Combs on state property off of Rt. 213 just several hundred yards from the Bert T. Combs Mountain Parkway in Stanton, KY.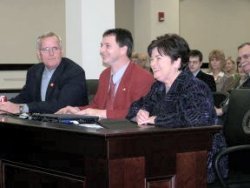 Representative Richard Henderson introduces Joint House Resolution 84. He is joined by Sara Walter Combs and Joe Bowen.
State Senator Tom Jensen brought the resolution to the Senate floor. Senators Julian Carroll and Robert Stivers, among others, spoke eloquently in behalf of the legacy of Governor Combs.
Rep. Henderson said, "This is a non-partisan piece of legislation where people from both sides of the political aisle came together to honor a truly great Kentucky statesman. The bill was a very personal piece of legislation for me and I was proud and honored to help with this tribute to a man who accomplished so much for all the people of the Commonwealth."
"I also want to thank Judge Sara Combs, Joe Bowen, and the Appalachian Heritage Alliance for their work to make this piece of legislation, and the statue itself, a success."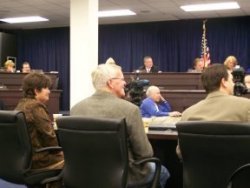 Addressing the House Sub-Committee
Powell County native Joe Bowen, the originator and driving force behind the Gov. Bert T. Combs Statue Project, said, "I was delighted to see our legislators come together and unanimously support this piece of legislation to honor the legacy of Governor Combs. It shows that his vision, leadership and the programs he enacted are still important today. He was a "native son" of Eastern Kentucky and people all across the state benefit from his lasting accomplishments."
The Unveiling Ceremony for the Bert T. Combs Statue is scheduled for April 20, 2007, at 10:00AM in Stanton, KY. Everyone is cordially invited to attend.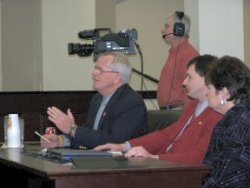 and the Senate