by Jeff Kerr, Editor
The statue of the late Governor Bert T. Combs, who was a resident of Stanton when he died, is scheduled to be unveiled at 10 a.m., April 20 in Stanton.
The statue is scheduled to be placed at the intersection of Sipple Street and Main Street, Kentucky 213, across from the Stanton Post Office.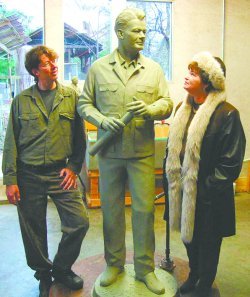 Judge Sara Walter Combs and Louisville sculptor Raymond Graf inspect the statue of Combs' late husband, former Governor Bert T. Combs in Graf's Louisville studio in December of 2006. That statue, and an identical one, will be dedicated Friday, April 20 in Stanton and Prestonsburg. The Stanton statue will be located on Kentucky 213 (Main Street) neat the Main Street-Sipple Street intersection. The Stanton ceremony is scheduled for 10 a.m. with the Prestonsburg ceremony scheduled for 3 p.m. The statues are the result of a project spearheaded by Powell County native Joe Bowen. Times file photo by David J. Griffin
---
The $80,000 statue was a true community project, said Joe Bowen of Powell County, who spearheaded the project.
"More than 60 people donated money toward this project," Bowen noted in an interview last Thursday. "And 70 percent of the money came from Powell County."
Although the statue was completed a few months ago, the exact location where it was the be placed was not finalized until the Kentucky House of Representatives and the Kentucky Senate unanimously passed House Joint Resolution 84, sponsored by Rep. Richard Henderson of Jeffersonville, in the final days of the 2007 session of the General Assembly. Henderson introduced the resolution in the House and State Senator Tom Jensen brought the resolution to the Senate floor.
Both Bowen and Combs' widow Judge Sara Walter Combs of Stanton, were present when the resolution passed.
"This is a non-partisan piece of legislation where people from both sides of the political aisle came together to honor a truly great Kentucky statesman," Rep. Henderson said. "The bill was a very personal piece of legislation for me and I was proud and honored to help with this tribute to a man who accomplished so much for all the people of the Commonwealth.
"I also want to thank Judge Sara Combs, Joe Bowen and the Appalachian Heritage Alliance for their work to make this piece of legislation, and the statue itself, a success."
Bowen said all the living ex-governors of Kentucky have been invited to the ceremony as well as current Governor Ernie Fletcher.
The Stanton ceremony will be one of two that day, he added. There will be another ceremony in Prestonsburg, where Combs lived for many years, that afternoon at 3 p.m. at the Floyd County Courthouse.
Bowen said the appearance of the statue will be unique.
"There will be a 25-foot diameter round circle and the statue itself will be at eye-level," he said. "He's not going to be put on a pedestal. That wasn't his style. The people who come to look at it will look at him eyeball to eyeball and there will be a small plaque there which tells his story."
Bowen also said $2,000 worth of landscaping for the project has been donated.
"There will be a nice backdrop of trees and flowers and shrubbery," he said. "There will be volunteers from the city and county who will prep the area and pour concrete before the statue is placed."
Bowen, who started working on the project in 2004 before the start of his second bicycle trip across the country, said he hopes to get the Powell County High School band to attend, as well as a lot of Powell County schoolchildren.
And he wants everyone else there, too.
"We'd love for everyone in the county to show up and honor a great Kentuckian who lived in our county," he said. "And we hope the weather is good."
He said the statue, at its planned location, will be an asset to Stanton and Powell County.
"When you get off the parkway (which is named for Combs, who was the driving force behind its construction), you'll drive into town and see Bert on the street. Hopefully people will respect it and appreciate and keep it nice because it is a really, really classy piece of art.
"I'm thrilled to see it go anywhere in Stanton because I'm glad to see him come home," Judge Combs said. "I'll never pass it that I won't stop and look. It will be bittersweet for me, but it will also be more sweet. He fully intended this to be his last home."
Judge Combs said the appearance of the statue, in which her husband is not wearing a tie and is wearing a casual jacket, reflects his spirit.
"He wasn't a formal man," she said. "He was really a man of the people. And he always wanted to mingle with real people."
---
The following is an excerpt from editor Jeff Kerr's Clay City Times column of 4-5-07.
---
Speaking of Judge Sara Combs and the late governor; when we were speaking Monday evening I told her a story about him she really enjoyed.
When I first started working for my hometown newspaper Combs was running again for governor. When he came to town on a campaign visit, the circuit clerk, who was the head Democratic honcho in the county, asked me to go along with him and Combs to take pictures.
Well, we followed the governor all over the downtown area, and I mean followed because he was full of energy. We went and met every politician, banker and businessman in the downtown area.
Finally, Combs turned to the clerk and said, "Have we met all the bigshots yet?"
The clerk said, yes we had.
"Then let's go see some real people," Combs said.
---