Bert T. Combs gave politics a good name.
State Historian addresses 1st Bert T. Combs Symposium
By David J. Griffin, Editor, Clay City Times

It is apparent that the legacy of Governor Bert T. Combs is alive and well in Eastern Kentucky. A gathering of well over 100 participated in the first annual Bert T. Combs Symposium held on Friday, September 1, 2006 at the Clay County Justice Center in Manchester. The galley of the courtroom was filled with young and old alike alongside county and state officials, friends, and relatives of the late Governor, including his widow, Court of Appeals Judge Sara Combs of Stanton.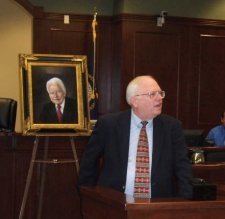 Georgetown College and State Historian, Dr. James Klotter
The symposium was the result of the efforts of local leaders in Clay County, particularly Rev. Ken Bolin of Manchester Baptist Church. It included remarks by Secretary of State Trey Grayson, music provided by the Clay County high school choir, an address by State Historian Dr. James Klotter, and a panel discussion led by Terry Gray which was open to the audience. Photo exhibits were available for perusal and a luncheon was hosted by the Manchester Baptist Church.
Secretary of State Grayson was the first recipient of the Bert T. Combs memorial scholarship established by the University of Kentucky School of Law. He gave his perspective on Combs' life in Kentucky politics and explained how accepting that scholarship had changed the course of his own life.
The main address was an amusing and fact-filled lecture by Dr. James Klotter, a professor of history at Georgetown College, on the life and administration of Governor Combs. He noted first the roots from which he sprang, emphasizing that knowledge of such is essential to understanding any chief executive.
A review of Combs' life included his service in World War II and his climb from Commonwealth's Attorney to Justice of the Kentucky Supreme Court in 1951. Klotter noted that when Combs was offered that position, he had accepted largely because Eastern Kentuckians feel overlooked and not considered as part of the Commonwealth, thus I decided to take it, to give them a voice.
By 1959, Combs had defeated "Happy" Chandler for Governor, and Eastern Kentucky had its first Governor in over three decades. It would become an administration that Klotter said "virtually all historians rank as one of the best of the 20th century." As Klotter put it quite succinctly, "Bert Combs gave politics a good name."
As Klotter reviewed the accomplishments of the Combs administration, one was reminded of how ambitious and successful that single 4-year administration actually had been. Combs increased support for education by 50% the first year and by 84% during his full term.He combined efforts to fully develop the state park system with the need for highway improvement and, through a system of bonding, established parkways that resulted in the western and eastern parts of the state finally becoming acquainted with central Kentucky.
Klotter recounted how Combs had not only established the community college system and KET, but that he had sought to correct problems that curtailed governmental progress. For example, Combs passed a law which put voting machines in every precinct in an effort to prevent stuffing ballot boxes. And, of course, he was the creator of the modern-day merit system.
Combs was also responsible for creating a Child Welfare Department, expanding services for the mentally ill, and establishing a Commission on Human Rights. Klotter explained that in spite of the success of the Combs administration in such needed areas of service, his administration had met with considerable criticism upon his "courageous issuance" of an Executive Order forbidding racial discrimination in public places. Klotter noted that such was a "path breaking action" occurring at the same time that George Wallace was publicly fighting integration by blocking the schoolhouse door.
Klotter also shared quotes from newspaper editorials concerning the Combs administration. From the Courier Journal: "never before in the history of Kentucky have more beneficial and far-reaching laws been passed. Never in one brief session has the quality of Kentucky government and public service so greatly improved." From the Lexington Leader: Combs "achieved every one of his major goals in the 1962 General Assembly."
In concluding, Dr. Klotter stated that "All would agree that he set high standards for honesty, for honor, for integrity, for accomplishments. We all miss him." He challenged the participants of the symposium saying, "our task is to make certain that his spirit lives on, and that we continue to stand for his causes, and still fight the good fight."
Judge Sara Combs and Fontaine Banks, former Chief of Staff in the Bert T. Combs administration.
A panel discussion followed Klotter's remarks. Members of the panel were: Judge Sara Combs, Fontaine Banks, former Chief of Staff in the Combs administration, Dr. Klotter, and Judge R. Cletus Maricle of Clay County. The panel fielded questions from the audience and also gave them a chance to speak about their own perspectives. Banks called Combs a "humble hero" and spoke of how in their 35 years of friendship, they had never had a cross word with one another. The discussion included personal remembrances and remarks about how Combs' accomplishments had affected peoples' lives, such as the Mountain Parkway.
It was noted that Clay, Floyd, and Powell Counties are all counties which share the legacy and influence of Bert Combs. One participant observed that these are the same counties which are today leading the fight against drugs in the state. He wondered aloud if the memory of Combs' influence was somehow related to the efforts to make these places a better place to live.
Pastor Ken Bolin reminded the audience that although this is the first symposium of its kind, it will become an annual event. "It was proof that his bright spirit has never been needed more than now and that he has not been forgotten," said Judge Combs.
---