Joe Bowen Completes second 14,000-mile Bicycle Trip Across America
Joe Bowen completed his second 14,000 mile bicycle odyssey across America. On the way, he shared "America's Story" with students across Kentucky and from sixteen other states. Joe introduced us to interesting people and wonderful places all across the nation. He promoted Kentucky wherever he went and he represented us well. It was quite a ride.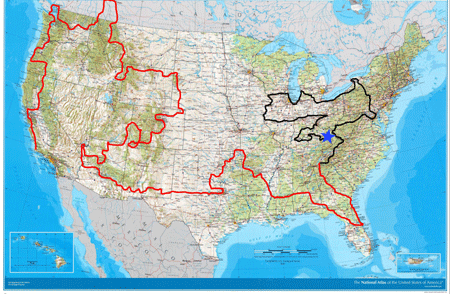 The red line, starting in southern California, is the first 10,000 miles bicycled in 2005. During the winter break, Joe worked in the schools. The black line, beginning in Tennessee and ending in Kentucky, is the final 4,000 miles completed in 2006.
---
Congressman Hal Rogers joins the 14,000-mile Bicycle Trip!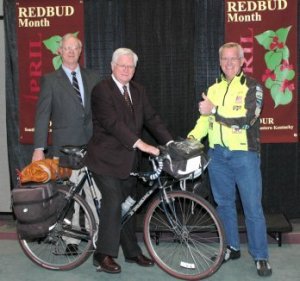 A delighted Joe gives an enthusiastic "thumbs up." Project Director David Musser points out that combined, The Congressman and Joe have already ridden well over 10,000 miles. When on the road, Congressman Rogers and Joe always wear their safety helmets and they want you to wear one, too.
---

Governor Ernie Fletcher presented Joe with the first Kentucky "Unbridled Spirit" Award on March 22, 2005 and gave the Official Send-Off for Joe's ride across America. Education Secretary Virginia Fox performed a wonderful job as emcee for the event and led 350 students from Menifee, Powell and Wolfe Counties in the enthusiastic chant of "Ride Joe, Ride!" Joe gave an uplifting talk and told the students to be proud of where they are from. Student representatives from eight schools gave Joe presents to help him on his ride.
---
The Rediscover Bicycle America project has three main elements.
1) The "Across Kentucky Warm-up Ride" is to promote the entire Rediscover Bicycle America project and to encourage Kentuckians to rediscover the treasure of our own Red River Gorge.
2) The Big Ride is Joe's bicycle tour across America.
3) The on-line classroom is Joe teaching the students of Eastern Kentucky about the people and places he meets on his long journey home. The educational aspect is the essence of the Rediscover Bicycle America project. Although the connection to students of Eastern Kentucky is the dominant theme, we fully expect schools from across the nation, and even internationally, to join the project.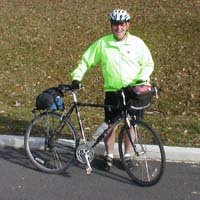 "In 1967, Joe Bowen, fresh out of the Air Force and with $43 dollars in his pocket, rode his bicycle out of Lompoc, California. He was headed home to Eastern Kentucky. Rather than take the most direct route, he decided to discover America. His 14,000-mile odyssey earned him many friends, much publicity and the legacy as the first person to tour America by bicycle. In 1980, Mr. Bowen walked 3,000-miles across the United States, on stilts, to raise money for Muscular Dystrophy research.
On April 8, 2005, exactly thirty-eight years later, Mr. Bowen, age 62, is again going to ride his bicycle out of Lompoc, California and retrace his 14,000-mile trip back home to Eastern Kentucky. This time, he will carry a laptop computer and teach an on-line class to the Elementary School students of Eastern Kentucky. As he educates the children about the wonders of America through modern technology, he will be instructing America through old time personal contact about the beauty of Eastern Kentucky- especially about the Nationally Designated Wild And Scenic Red River and the National Scenic Red River Gorge Byway." -from the Proposal and Overview