Following is the proposal for the Rediscover Bicycle America Project. It is an amazing 12 to 16 month education/adventure project for the students of Eastern Kentucky- and beyond. Your help would certainly be appreciated.
---
Rediscover Bicycle America
An Educational Bicycle Journey
of Quixotic Proportions
Proposal and Overview
Appalachian Heritage Alliance, Inc PO Box 1003 Campton, KY 41301
Contact person: David Musser (606) 725-4860 info@AppalachianHeritageAlliance.org www.AppalachianHeritageAlliance.org
The Appalachian Heritage Alliance is a not-for-profit 501(c)3 organization January 2005
---
Overview
The Rediscover Bicycle America Project has three main elements.
1) The "Across Kentucky Warm-up Ride" is to promote the entire Rediscover Bicycle America Project and to encourage Kentuckians to rediscover the treasure of our own Red River Gorge.
2) The Big Ride is Joe's bicycle tour across America.
3) The on-line classroom is Joe teaching the students of Eastern Kentucky about the people and places he meets on his long journey home. The educational aspect is the essence of the Rediscover Bicycle America Project. Although the connection to students of Eastern Kentucky is the dominant theme, we fully expect many schools from across the nation, and even internationally, to join the project.
Proposal
Precedent
In 1967, Joe Bowen, fresh out of the Air Force and with $43 dollars in his pocket, rode his bicycle out of Lompoc, California. He was headed home to Eastern Kentucky. Rather than take the most direct route, he decided to discover America. His 14,000-mile odyssey earned him many friends, much publicity and the legacy as probably the first person to extensively tour America by bicycle. In 1980, Mr. Bowen walked 3,000-miles across the United States, on stilts, to raise money for Muscular Dystrophy research.
Purpose
On April 8, 2005, exactly thirty-eight years later, Mr. Bowen, age 62, is again going to ride his bicycle out of Lompoc, California and retrace his 14,000-mile trip back home to Eastern Kentucky. This time, he will carry a laptop computer and teach an on-line class to the Elementary School students of Eastern Kentucky. As he educates the children about the wonders of America through modern technology, he will be instructing America through old time personal contact about the beauty of Eastern Kentucky- especially about the Nationally Designated Wild And Scenic Red River and the National Scenic Red River Gorge Byway.
Duration
The trip will begin in April 2005, and last for twelve to fourteen months. The educational component will continue for several months afterwards.
Itinerary
The journey will essentially mirror the original 14,000- mile trip. It will begin in California, head north into Canada, back into the U.S., again into Canada, follow the Rocky Mountains all the way to Mexico, back up through the heartland, points east and then back to Kentucky. It will culminate at Bowen Elementary School, Bowen, KY. Joe lives at the head of Bowen Hollow.
Educational Component
Mr. Bowen will receive help from classroom teachers, the Appalachian Heritage Alliance and the Berea College Education Department in designing and implementing the on-line instruction. The target group is fourth and fifth grade students. Instruction will continue through the school summer break.
The potential educational links to geography, social studies, arts and humanities, history, math, science and other areas are truly astounding. In just the first two weeks, Mr. Bowen will visit the "Flower Capitol of the United States," a US missile range, the Hearst Castle at San Simeon, Big Sur, Monterey, John Steinbeck's Museum in Salinas, San Francisco, the Golden Gate Bridge, and Jack London's Museum near Petaluma.
Joe will post pictures, descriptions, and his impressions on the web at www.AppalachianHeritageAlliance.org. This will be followed by specific questions for the students developed by the research team (see below.) The lessons will, to every extent possible, be integrated with the instructional curriculum of the teachers. The support team for the project has extensive experience in these matters. E-mail communication between Mr. Bowen and the students will be on-going.
The lessons will establish a real world connection between the rider, the place and the student. Several layers of abstraction are removed from the learning process. It's real, it's now, it's personal, and it's a dialogue.
Preliminary inquiries indicate at least twelve schools (thirty-six classes) from Eastern Kentucky in the initial phase of the journey. Some of these schools are located in the most economically distressed, though naturally beautiful, areas of the United States. As the project develops, the number of participating schools should dramatically increase. As an educational tool, this project has local, regional, state, national and even international appeal. The educational potential of this project is as ambitious as the ride itself. And it's a big ride.
Publicity Component
In order to tell the country about Eastern Kentucky, Mr. Bowen must develop significant media attention. In addition to the work of the Publicity Team (see below,) Mr. Bowen will:
1. Specifically target travel, tourism and educational media.
2. Schedule Ride-Alongs by government officials, citizens and celebrities. The bicycle community in the U.S., according to The League of American Bicyclists, is 57 million strong with 8-10 million considered "serious" riders.
3. Speak at convention and civic club meetings across the U.S.
4. Write articles about his trip and about Kentucky to submit to relevant publications.
Media appearances in route.
5. Educational stops at schools along the way.
6. Attempt a "reunion" story with Dianne Sawyer in the Red River Gorge at the sight of her first newscast.
7. As a "warm-up" to the big ride, Joe is going to do a twelve-day, 800-mile trip to all the major cities in Kentucky to foster awareness for the upcoming trip. This "short" trip will help prepare the support teams for their duties.
Support Teams
Support teams will consist of college students and their teachers, AHA staff, technical consultants, classroom teachers and elementary school students.
Oversight Team- Direct telephone contact with Joe. These conversations will determine the actions of the other teams. Oversee the project.
Publicity Team- Responsible for contacting and providing a press release for every town newspaper, TV and radio station along the route prior to Mr. Bowen's arrival.
Education/Research Team- Design the learning format. Research appropriate questions for the students. Develop other cool activities- puzzles, art projects, discussion topics, cross-curricular connections, etc. Develop dialogue with classroom teachers in order to meet their needs.
Web Team- Manages the web page.
E-mail Team- Supervise the student e-mail (which could be overwhelming) and organize it into a manageable arrangement for Joe.
Documentation and Archives Team- Document the trip.
Projected Outcomes
The entire state of Kentucky and the corporate sponsors of this project will benefit by the substantial nationwide positive publicity this innovative learning event will produce.
The students of Eastern Kentucky will gain a better understanding of the United States by actively participating in a unique, real-world learning process through the use of current technology. Teachers will benefit by helping design a creative learning format that will directly relate to their curriculum and help improve State mandated educational outcomes.
Schools are becoming proficient at incorporating technology as an information-gathering tool. This project will give the students the opportunity to use technology in a real-world educational application.
This project will achieve local, regional, statewide, national and international participation and significance.
Organizational Support
Appalachian Heritage Alliance, Campton, KY
Berea College Education Department, Berea, KY
League of American Bicyclists
Lompoc, CA, City Department of Public Relations
Kentucky Department of Tourism
Powell County Tourism, Stanton, KY
Powell County Board of Education, Stanton, KY
Greg Brock, University of Kentucky Professor and previous cross-country bicyclist
Southern and Eastern Kentucky Tourism and Development Association, Somerset, KY
University of Kentucky Appalachian Center, Lexington, KY
Whitaker Bank, Stanton, KY
About Joe Bowen
Personal
Age: 63
Education: Humanities Degree, University of Louisville
Place of Birth: Bowen (Powell County,) KY
Family: Three Daughters- Shawna, Lonna, Natalie Anne
Career: Construction worker
Military: U.S. Air Force
Philanthropy
While in the Air Force in California, Joe gathered and delivered a military cargo plane full of presents to the Dessie Scott Children's Home in Wolfe County, KY. Twice.
Walked 3,000 miles across America
on stilts
to raise money for the Muscular Dystrophy Association. Also five countries in Europe.
Active volunteer at Bowen Elementary School, Powell County, KY.
Woody Stephens Monument Project, Stanton, KY.
Taylorsville Cemetery Restoration Project, Taylorsville, KY.
Gov. Bert T. Combs Statue Project.
Active in the Eastern Kentucky Heritage Monument Project.
Habitat for Humanity Volunteer.
And many others
Memberships
AARP
U.S. Air Force, retired (1963-67)
Honorable Order of Kentucky Colonels
Honors and Awards
Ellis Island Medal of Honor
Olympic torch carrier- 1996
Olympic torch carrier- 2002
Ambassador for Life, U.S. Jaycees
University of Louisville School for Humanities Outstanding Service Award
Guinness Book of World Records for longest walk on stilts. Twice.
Featured in "Ripley's Believe It or Not"
Publications
"Stiltwalk," self-published book
Magazine articles written for: "Argosy," "Fitness for Living," "American Cycling," "Bicycle Spokesman," "LAW Bulletin," "Western Gateways," "Kentucky Explorer," "Back Home in Kentucky" Featured in numerous publications
Estimated Budget (minimum)- cash
| | |
| --- | --- |
| Food (390 days at $18 per day) | $7,020 |
| Accommodations (390 days at $60 per day) | $23,400 |
| Equipment (laptop computer, camera, phone, video) | $2,000 |
| Insurance (14 months at $300 per month) | $4,200 |
| Educational component (16 months) | $20,000 |
| Bicycle equipment | $2,000 |
| Fees, etc. | $1,000 |
| Phone bill | $2,000 |
| Airline ticket to California | $450 |
| Total | $62,070 |
Budget- Cash Pledges and Estimated In-Kind Contributions
The Minimum Estimated Cash Budget, listed above, does not include several important categories (administrative support, educational research and services, logistical support, publicity, etc) for which the project will receive In-Kind organizational support. We realize the In-Kind contributions will not adequately cover the cost of each category. However, it is important to determine what the project players can do before asking for further assistance. The numbers listed below apply to support needs over and above the Minimum Estimated Budget.
| | |
| --- | --- |
| Organization | Contribution |
| Appalachian Heritage Alliance, Campton, KY | $5,000 Admin support (I-K) |
| Berea College Education Department | $5,000 Educational services (I-K) |
| League of American Bicyclists | $1,000 Logistics, publicity (I-K) |
| Lompoc , CA, Public Relations Dept. | $250 publicity (I-K) |
| Kentucky Dept of Tourism | |
| Powell County Tourism, Stanton, KY | $3,150 insurance, $1,000 publicity |
| Powell County Board of Education | $2,500 school resources (I-K) |
| Southern and Eastern KY Tourism and Development | $2,500 Publicity plus substantial logistical support (I-K) |
| University of Kentucky Appalachian Center | $2,500 resource, info, publicity (I-K) |
| Whitaker Bank, Stanton, KY | $1,000 cash |
---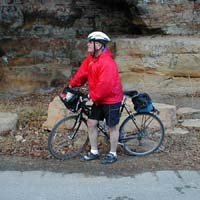 ---
Final Thoughts
The Rediscover Bicycle America Project is an amazing, innovative, interactive educational adventure. We ask for you help and invite you along for the ride.