Feb. 25 to March 12, 2005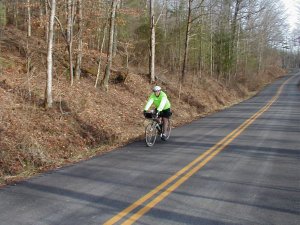 The first part of the Rediscover Bicycle America-Unbridled Spirit Project was successfully completed on March 12. For most of the trip the weather proved to be an obstacle but Joe pedaled on. He received wonderful publicity all across the state. A couple of weeks later, Governor Ernie Fletcher awarded Joe the first "Kentucky Unbridled Spirit" Award. Congratulations, Joe!
Following is a day-by-day record of the trip.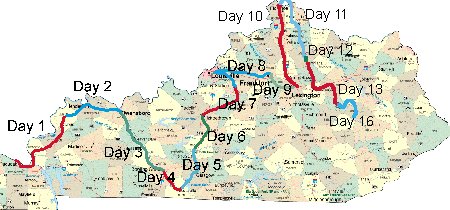 ---
Feb 23 Joe Bowen is recognized at the Kentucky State Capitol by both the Senate and House of Representatives. He took his bicycle into each chamber.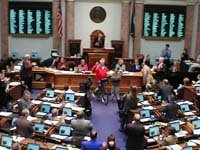 Feb 25 Joe departs from Paducah to begin his "Across Kentucky Warm-Up" bicycle ride. The weather is beautiful. He rides 77 miles to Morganfield. (Day 1)
Feb 26 Joe leaves Morganfield and rides to Owensboro. The weather is again delightful. (Day 2)
Feb 27 Joe rides to Bowling Green. The temperature drops and most of the ride is in the rain. (Day 3)
Feb 28 The temperature drops into the 30's and snow develops. Joe rides to the Scottsville-Franklin area. (Day 4)
March 1 Joe rides to Munfordville. More snow and still cold. The temperature was in the twenties when he started that morning. (Day 5)
Mar 2 Joe rides to Elizabethtown. Temperature still in the twenties in the morning and low to mid thirties in the afternoon. These last three days have not been ideal bicycle riding weather. (Day 6)
Mar 3 Joe bicycles on to Taylorsville. According to the itinerary, he is supposed to get a day off to rest. However, since the weather has put him behind schedule he decides to ride the next day. (Day 7)
Mar 4 Joe rides into Louisville and on to Frankfort. In Louisville, a TV station tries to track him down but can't find him. If you want to catch Joe, you better be quick because he's a-moving on. (Day 8)
Mar 5 Joe pedals on to Lexington to stay with relatives- Stephanie, Steven and family. He is half-way into the KY-Warm-Up trip. (Day 9)
Mar 6 Joe rides from Lexington to the Ohio River in Covington. He could have easily crossed the river but decided to spend the night in Kentucky and ride to Cincinnati in the morning. Now folks, stop and think about that for a minute- riding a bicycle from Lexington to Cincinnati in one day. I don't know about you, but this is a frame of reference that I can relate to. And I find it remarkable. (Day 10)
Mar 7 Joe crosses the bridge into Cincinnati and goes downtown to the fountain. On the way back into Kentucky he takes a different bridge that has open metal grating over the center span. His tires drop into the grating and he almost falls into the traffic. It's also raining. The rest of the day is spent fighting headwinds so strong that he has to pedal even when going downhill. More rain. He rides 56 miles to Cynthianna. It is by far his most difficult day. (Day 11)
Mar 8 The weather is too windy, cold and snowy to ride. He is going to sit this day out. (Day 12)
Mar 9 Joe rides from Cynthiana to Paris, Winchester, Mt. Sterling and on to Clay City where he receives a nice welcome from the townsfolk. Have you ever been followed closely by a fire truck with lights flashing and siren wailing as you rode your bicycle through town? He then pedals on to Stanton. Except for the final ride on the Red River Gorge National Scenic Byway, Joe has completed his Across Kentucky Warm Up Ride. He can rest a day or so before tackling that. (Day 13)
Mar 10 and 11 The weatherman is predicting four inches of snow for the day of the ride on the Red River Gorge Scenic Byway. Stay tuned. (Days 14 & 15)
Mar 12 Well, it only snowed two inches and that certainly wasn't enough to stop Joe. The festivities sponsored by Powell County Tourism at Stanton started slowly in the morning but participation increased as the day warmed and the snow melted. Kentucky Secretary of Commerce Jim Host and his wife presented Joe with a box of official "Kentucky Unbridled Spirit" bicycle riding apparel. Reporters were on hand from the Lexington-Herald Leader and WKYT-TV. About a dozen bicycle riders set off with Joe. The temperature was 35 degrees. Twenty-two cars followed. By the time the procession reached the Gladie Creek Cultural Environmental Center down in the Gorge, the sun was out and a nice sized crowd was on hand to show their support. Two lucky kids won bicycles. Congratulations, Joe, and thanks for taking us with you on a bicycle trip across our beautiful state of Kentucky. (Day 16)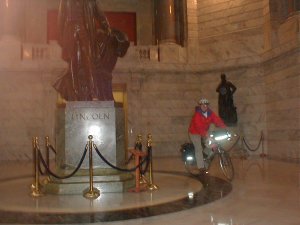 Not everyone gets to do this in the Capital Rotunda.
---
Following is the Original Posting for this page:

Joe Bowen begins his Across-Kentucky Bicycle Ride in Paducah, KY, on February 25 and finishes in the Red River Gorge on March 12. This ride is a "warm-up" to promote his "Rediscover Bicycle America" on-line classroom project for the students of Eastern Kentucky and to remind all of Kentucky about the beauty of the Red River Gorge.
Please join Joe by bicycle or by car on Saturday, March 12, for a 44 mile ride on the Red River Gorge National Scenic Byway.
From 9:00 to 10:00 AM, Joe will be at the parking lot of the Stantec, Inc factory on Elkins Street in Stanton, KY. (Get off the Mt. Parkway at the Stanton Exit and turn towards town. Elkins Street is a couple of blocks on the right.) At 9:30, Kentucky Secretary of Commerce Jim Host will present Joe with an official "Unbridled Spirit" riding jacket. Two bicycles will be given away. All K-12 students are eligible. Registration is between 9:00 and 10:00. The drawing for the winners will be at the reception at the Gladie Cultural Environmental Center in the Gorge at 12:30. At 10:00, Joe and fellow bicycle riders will begin the ride on the Red River Gorge National Scenic Byway. Car travelers are on their own schedule and are encouraged to wave and honk as they pass him by.
The goal is simply to enjoy the beauty of the Red River Gorge.
We hope to see a big turnout of Kentuckians rediscovering and enjoying the Red River Gorge on March 12. And it's before the Tourist Season, so we will have it all to ourselves.
---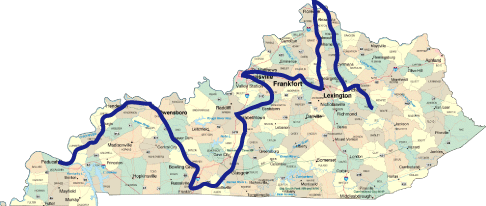 The following itinerary is subject to change due to weather conditions. We will monitor the trip on this website and update the changes as the ride progresses.
Itinerary
City
Miles
Day
Date
Paducah
0
1
Feb 25
Marion
30
Sullivan
15
Morganfield
15
Morganfield
0
2
Feb 26
Henderson
24
Owensboro
34
Owensboro
0
3
Feb 27
Beaver Dam
35
Morgantown
20
Morgantown
0
4
Feb 28
Bowling Green
26
Franklin
26
Franklin
0
5
Mar 1
Scottsville
19
Glasgow
25
Hodgenville
45
Hodgenville
0
6
Mar 2
Elizabethtown
10
Bardstown
25
Bloomfield
16
Taylorsville
11
Rest Day
7
Mar 3
Taylorsville
0
8
Mar 4
Louisville
32
Louisville
0
9
Mar 5
Shelbyville
30
Frankfort
28
Frankfort
0
10
Mar 6
Lexington
30
Georgetown
13
Williamstown
29
Williamstown
0
11
Mar 7
Florence
26
Cincinnati
20
Cincinnati
0
12
Mar 8
Cynthiana
50
Paris
15
Rest Day
13
Mar 9
Paris
0
14
Mar 10
Winchester
17
Mt. Sterling
15
Clay City
18
Stanton
6
Rest Day
15
Mar 11
Stanton
0
16
Mar 12



Tour of the Red River Gorge

Bowen
6
Nada
5
Pine Ridge
18
Slade
8
Zachariah
8
Direct map miles add up to 750. Actual miles, which includes small side trips along the way, will make the trip approximately 800 miles.
---
The Tour of the Red River Gorge begins in Stanton at
10:00 AM March 12
There will be a reception down in the Gorge at the Gladie Creek Interpretive/Education Center at noon-ish or 1:00-ish or thereabout.
---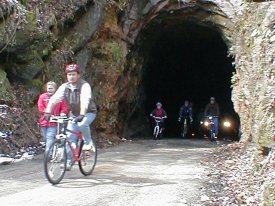 Nada Tunnel