WELCOME HOME to KENTUCKY, Joe!
14,000 miles on a bicycle. You did it again.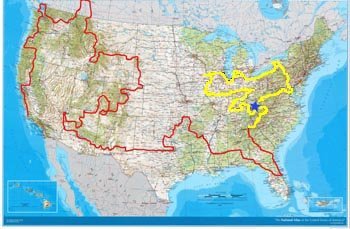 June 18
After bicycling 14,000 miles across America for the second time, Joe is home in the beautiful Red River Gorge of Eastern Kentucky. Thanks, Joe, for taking us along. It was quite a ride.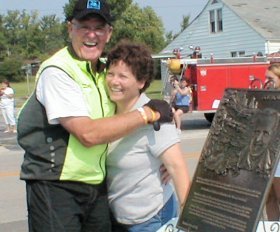 Welcome home, Joe!
June 17
The really big news is that our Eastern Kentucky gospel group, "Assembled" won the award from the Gospel Music Showcase in Nashville. A rep from Nashville called David Goodwin, father of two of the band members, and asked, "How in the world did you get people from all over the country voting for your group?" Thanks to all of you for voting for these fine young people.

Oh, and by the way, Joe Bowen completed his second 14,000-mile bicycle ride across the nation.

The folks in Beattyville gave him a warm welcome home at their first Pedals and Blooms Festival on Friday evening. (In other Festival news; After careful review, the questions surrounding the official vote tabulation for the winner of the Miss Hazel Look-a-Like Contest were resolved to everyone's satisfaction. And, no, Joe did not cast the deciding vote.) Vicki Kidd, director of TOUR Southern and Eastern Kentucky (the new name for SEKTDA), along with staff members Jeff Crowe (Scenic Byways), Van Back, Theresa Russell, and Michelle Spencer came from Somerset to welcome Joe home. Beattyville has a very active group of citizens promoting their town.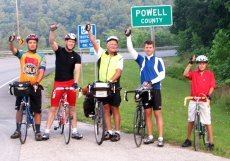 Joe's escort into town
Early this morning, Caleb Crabtree, Hondo Hearne, Brian Billings, Parnell Lowe and J.L. Bowen rode with Joe from Beattyville to Stanton - the last leg of the 14,000-mile journey. Just outside of town, at the Drive Inn Theater, they were met by a group of elementary students who rode with Joe as he concluded this epic adventure by riding into the Pedals and Blooms Festival in Stanton. Joe handed the symbolic torch to a group of kids who have followed him on-line for over a year. This is not the end of the bicycle adventure, it's the beginning of a new chapter.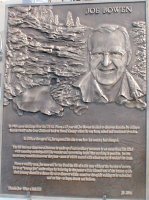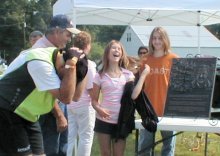 Before ringing the starting bell to begin the bicycle races with well over a hundred participants, Joe was presented a marvelous bronze plaque by Judy, John, Johnathon, and Alex Shircliffe and Raymond Graff (sculptor of the Bert T. Combs Statue.) Stanton's arts and crafts booths as well as their music stage is located in a shady oak grove- a welcome relief on a hot summer day. Congratulations to all the Festival promoters.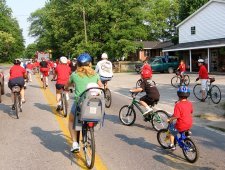 Students and community help Joe to the finish line
It will take a while to wrap things up. But for now, Welcome Home, Joe. From all of us. Thank you for taking us on a wonderful bicycle/educational adventure and for introducing us to new people and places all across our great country. Thanks for being an Unbridled Spirit and good-will ambassador for all of Kentucky. Thanks for sharing America's Story with the students. Thank you for the inspiration. What a Ride, Joe, What a Ride!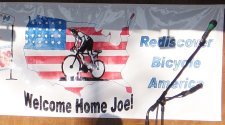 Beattyville banner
---
One final thanks to the sponsors: Floyd Anderson Chevrolet; Appalachian Heritage Alliance; Kentucky Department of Tourism; KY National Scenic Byways; League of American Bicyclists; Lompoc Valley Chamber of Commerce; New!West; Pedal the Planet Bicycle Shop; Powell County Tourism; TOUR Southern and Eastern Kentucky (SEKTDA); UK Appalachian Center; Whitaker Bank of Stanton; Richard and Valerie White Wood Products. And to individuals: Karen and Van Back; Joe Bowen from Atlanta, GA; Julie Smith Buckler; Beth Henning; James Host; Bill and Karen Karrer; Mark and Mary Kindall; Mary J. Kohl; Maura and Phil Lenahan; Monique Robitaille; Joann Schmidt; Carolyn Smith; Dorney Thompson, Ken and Phyllis Thompson; Debbie Tipton.

These funds went to support Joe's trip and for a considerable amount of educational material that we will donate to the schools. Joe, himself, did not make a single dime from this trip.
---
Wait a minute, folks. In the Homecoming activities we got way ahead of ourselves. Lets back up to our last daily entry as Joe was crossing into Kentucky and follow him on home.
---
Home to Kentucky!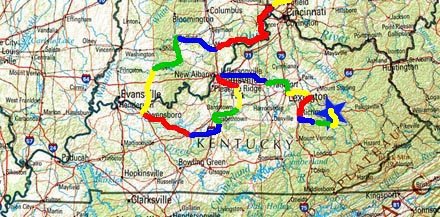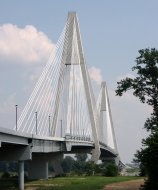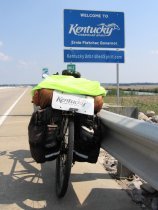 May 29 (afternoon)
Joe pedaled over the Ohio River on the beautiful, new William Natcher Bridge into Owensboro, Kentucky. He leaned Rocinante against the Welcome to Kentucky sign with it's "Unbridled Spirit" logo and took a picture. I have no idea what went through his mind but it must have been an awesome feeling. For the record, let's review the states and Canadian Provinces he has pedaled through on this remarkable bicycle/educational adventure: California, Oregon, Washington, Idaho, British Columbia, Alberta, Montana, Wyoming, South Dakota, Nebraska, Colorado, Utah, Arizona, Nevada, New Mexico, Texas, Oklahoma, Kansas, Missouri, Arkansas, Louisiana, Mississippi, Alabama, Florida, Georgia, Tennessee, North Carolina, West Virginia, Virginia, Maryland, Pennsylvania, New York, Ohio, Michigan, Indiana, Illinois, Wisconsin, Iowa, and Kentucky. 37 states, 2 provinces. Welcome home to Kentucky, Joe. From all of us.
May 30
Now that he is in Kentucky, Joe is going to take a couple of days off to relax and recuperate before the final push home. Barbara has joined him and they are going to visit relatives in Western Kentucky. Barbara is definitely the unsung hero of the trip. What an amazing and understanding woman to support her man through all this. Upon closer scrutiny, if we add all the miles Barbara has traveled during the trip - to California, out west a couple of times, New York, all over Kentucky, etc - we may have to rename this trip the Barbara Crabtree Bowen Adventure. Thank you, Barbara. Thank you, thank you, thank you.
May 31
Joe wants to extend a special "Thank You" to our good friends Richard and Valerie White from Morehead, KY. Richard and Valerie supported Joe consistently and faithfully from day one of the trip. They were with him for every turn of the wheel for the entire adventure. Thank you, folks. You were very important to Joe and to the success of this project.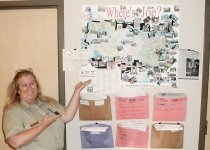 "Where's Joe?" display at the Gladie Center on the Red River National Scenic Byway. Thanks, Hope. And thanks to the U.S. Forest Service. The folders contain all of Joe's "Stories from the Road," the daily updates, and much more.
June 1
Joe is back on the road. He pedaled 55 miles to Leitchfield. On the way, he met seven bicyclists heading to Seattle; college grads from North Carolina making a cross-country trip. They had pedaled through the Red River Gorge and knew all about Joe. Hope Crosbie's display at the Gladie Educational / Interpretive Center along the Red River Gorge National Scenic Byway strikes again. No telling how many people have seen that display. Bruce Rushton kindly sent some hard copies of the very fine article he wrote about Joe's adventure for the Illinois Times. We will get one to Hope right away. There's been a couple of inquiries about how our favorite young Gospel group, "Assembled," faired in the Nashville Gospel Music contest. We don't know yet. The winner will be announced June 17. Keep these kids in your prayers- not necessarily that they win - but that they keep on doing the right things in life.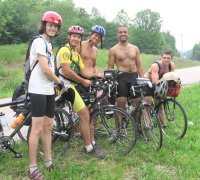 Hey, guys, Joe wishes you well on your short ride
June 2
Rained out.
June 3
Joe was joined by his brother J.L. and nephews General Bowen (14) and Robert E. Lee Bowen (11). They enjoyed a beautiful day riding on good country roads to the birthplace of Abraham Lincoln in Hodgenville. You may recall that the folks at Lincoln City tell the tale that Thomas Lincoln moved his family to Indiana because he lost two farms to land swindlers. The Kentuckians at the Lincoln Birthplace say it only happened once.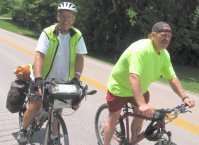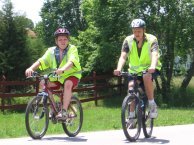 Joe, J.L., Robert, and General Bowen
June 4
J.L. and the boys had a great time and then headed home to Powell County. Thanks, guys, for riding on the adventure. Joe pedaled up to Elizabethtown and on to Bardstown. He can look out his hotel window and see "My Old Kentucky Home," which he will visit tomorrow. Since he will soon be in Taylorsville this is an opportune time to thank all the Taylorsville folks for their support. A special "Thanks" goes to Ken and Phyllis Thompson, Bill and Karen Karrer, and John and Judy Shircliffe. These good friends also collaborate with Joe on other projects and who knows what these creative and surprising people will come up with next.
June 5
After a tour of "My Old Kentucky Home" in Bardstown Joe enjoyed a visit with good friend Guy Mock and then pedaled on to Taylorsville. Joe has many friends here and will spend a couple of days making the rounds. As you can tell, Joe is relaxing and coasting home. You are invited to join him at the "Petals and Blooms Bicycle Festival" on June 16 -18. He will be welcomed home in Beattyville on Friday, the 16th, and in Stanton on Saturday the 17th. The bicycle races begin on Saturday. For more information on the festival go to www.cyclethegorge.com. See you there!
June 6
Joe is staying with our good friends Phyllis and Ken Thompson who live on the farm originally owned by the sister of James Morrison Heady. James Morrison Heady was blinded as a child and became deaf by age forty. He was a novelist, poet, inventor, designer, philosopher, musician and composer. He promoted the production of books in raised letters which directly lead to the founding of the American Printing House for the Blind. Heady was a pioneer in the education of blind and deaf people and his legacy endures to this day. He was a friend to the young Helen Keller and poet John Greenleaf Whittier. Although Heady was a legendary figure around the turn of the 20th century, his legacy was slipping into obscurity until Ken Thompson began researching his life. The result is Ken's book "Beyond the Double Night" (published by Buggy Whip Press, PO Box 459, Taylorsville, KY.) This remarkable and inspiring book celebrates the life of truly great Kentuckian.
(editor's note: Another thanks to Bill Karrer for his reliability, dependability, and insistence on punctuality during this adventure. Bill is also involved in an exciting Kentucky history/mystery project that will, well, just wait and see.)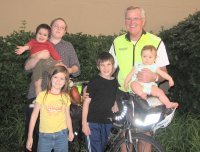 Grandkids
June 7
Joe's at daughter Natalie's in Louisville hanging out with the grandkids. He's teaching them history and geography and they are teaching him spelling. Our thanks today go to Jeff Spradling from Menifee County. Jeff saw the educational potential of the bicycle adventure to Kentucky students and helped the AHA get Joe lined out with all the tech stuff at the beginning of the trip. Needless to say, this was a very important component of the trip. Several thousand students know a little more of "America's Story." Plus, hands-on technology skills. Thanks, Jeff!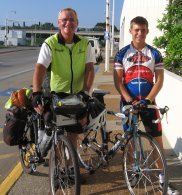 Joe and Scott Paige
June 8
This morning Joe had a TV interview in Louisville and in the afternoon a newspaper interview with the Shelbyville Sentinel. From there he pedaled on to Frankfort. At the hotel, a 20 year old Army National Guardsman approached Joe and asked him what he was doing. At the time, Joe was in a hurry so he gave him the www.ridejoeride.org and www.cyclethegorge.com addresses and said he would talk to him later. Well, later, the young man, Scott Paige, said he was so impressed he signed up to ride with Joe on Saturday. Scott had his bicycle with him so he and Joe pedaled around Frankfort. Our thanks today goes to Floyd Anderson of Anderson Chevrolet in Campton. Floyd and Joe go way back. Floyd loaned Joe and Barbara a van to drive to California to start the bicycle trip and he has played an important role in the Bert T. Combs Statue project. Thanks, Floyd!
June 9
Joe's nephew Steve Bowen and his wife Stephanie joined Joe in Frankfort and pedaled with him to Lexington. Thanks, folks, for your support throughout the trip. A week from today Joe rides into Beattyville for his first Welcome Home celebration. Beattyville, home of the famous Woolly Worm Festival, is a wonderful Eastern Kentucky town located on the Kentucky River. The people there invite you to celebrate the Pedals and Blooms Bicycle Festival with them next week (see www.cyclethegorge.com for more info) and then come back in the fall for the Woolly Worm Festival. For those of you who may not know, the general winter weather pattern is predicted by the color markings on the woolly worm. Not just any woolly worm. It's the winner of the Great Woolly Worm Race. This is strictly scientific, not like that Groundhog Day nonsense.
June 10
On Joe's 14,000-mile bicycle ride he has sought out the beautiful, the remarkable, and the interesting places all across America so he could share them with the students of Eastern Kentucky. As it turns out, one of the most scenically beautiful, geologically remarkable, and positively interesting places in all America is right here in Eastern Kentucky. Our home. Many of us already knew that, but it is of the utmost importance that Joe has been to the other places and can confirm it for us. One expert on the beauty of Southern and Eastern Kentucky is Jeff Crowe, Director of KY National Scenic Byways. Jeff will tell you that receiving National Scenic Byway designation is not easy and only happens where it is deserved. Southern and Eastern Kentucky has THREE nationally designated Scenic Byways. Jeff will also quickly tell you that Life Magazine rated the Red River Gorge Scenic Byway as one of the most scenic byways in the nation. Jeff understood the importance of Joe's ride to promote our area has been involved in the ride from the beginning. Thanks, Jeff! The KY National Scenic Byways (http://www.byways.org/ ) is the major sponsor of the Pedals and Blooms Bicycle Festival (www.cyclethegorge.com) So children, and adults as well, listen up. We live in a truly wonderful, beautiful, special place. We are blessed. Be proud.
June 11
OK. So you are wondering "Where's Joe?" Nobody knows. It's his birthday and he is somewhere with Barbara for the weekend. Happy Birthday, Joe! Only a few days of actual riding remain and he's spacing them so he can pedal on schedule into Beattyville on Friday and into Stanton on Saturday. This gives us time to continue thanking people who have helped on the trip. Today, we want to thank the good folks at the Southern and Eastern Kentucky Tourism and Development Association (SEKTDA.) A special thanks to Executive Director Vicki Kidd and her excellent staff who appreciate the potential of Southern and Eastern Kentucky and effectively promote our area in many ways (http://www.tourseky.com/) The Mt. Parkway Trails Corridor, a division of SEKTDA consisting of community volunteers from Estill, Lee, Magoffin, Powell, Owsley, and Wolfe Counties, has supported this trip from the outset. A special thanks also to Van Back, Director of Community Development and liaison to the corridors, who has patiently taught us all the SEKTDA principle of working together for the betterment of the entire region.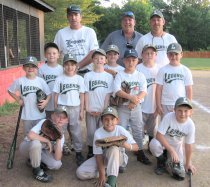 The Legends
June 12
Before Joe took the weekend off, he, Steve, and Stephanie rode to Winchester on Saturday morning. Later, he got to watch his grandson, Caden, play in a couple of baseball games. Today, Joe rode to Richmond. He's spent a good deal of time lately talking to the press. This is the final week of the 14,000-mile Kentucky Unbridled Spirit Rediscover Bicycle America Adventure. Pretty cool, huh?
June 13
Joe had several reasons to ride 14,000 miles across our great country. One was personal; could he recreate at age 63 his epic ride of almost 40 years ago. Another was promotional; to tell the nation about Kentucky. But the most important reason, with the most enduring potential, was to share America's Story with the students of Eastern Kentucky. As it turns out, students from at least seventeen other states also rode along. And a couple of other countries. The teachers, students, and schools from Menifee, Powell, and Wolfe counties took the lead and deserve the credit for the educational success of the trip. Much of the program centered on students developing their technology skills in a real-world, hands-on situation as they followed Joe. The talented staff at Rogers Elementary even used the trip to secure a major technology grant from Hewlett-Packard. Individual teachers, all of them smarter than you, me, and Joe, used the trip to augment their lesson plans. This included: creating travel brochures, writing assignments, poetry, general science, geology, history, and geography. Lessons in social studies included regional songs and dance, food preparation (and eating,) building models of shelters, and other cultural and historical instruction. The students knew Joe personally. They had cheered him on chanting "Ride, Joe, Ride" to start his trip. He's a friend. If a friend is telling you about a volcano he is actually standing on, then the volcano is no longer an abstract idea in a book. It's real. And Joe helped the teachers make that educational connection in many ways to a lot of young students. Thank you, teachers. Thank you, Eastern Kentucky teachers.
June 14
Yesterday's update was primarily thanking the teachers. Today, Joe sincerely thanks the students. You made all the effort worthwhile. Students, you need to understand that Joe Bowen has more faith in you than possibly anyone you will ever meet.

Joe is in another of our favorite Eastern Kentucky towns, Irvine, home of the Mountain Mushroom Festival. If you have never eaten a wild, properly prepared, Appalachian morel mushroom your gastronomy education is woefully incomplete. Around noon, he drove to Lexington for a TV interview. Joe will take tomorrow off and get ready for the ride to Beattyville on Friday.
Come welcome Joe home this weekend at the Pedals and Blooms Bicycle Festival. Beattyville on Friday and Stanton on Saturday. www.cyclethegorge.com.
June 15
Today we want to thank YOU. Thanks to all the people who supported Joe on this amazing 14,000-mile bicycle trip across our great nation. Thanks to all the folks who took the time to talk to Joe along the road. Thanks to those who bought a stranger a meal or gave him a place to stay. Thanks to all the people across the country, and beyond, for riding along with Joe on the web site. Thanks to all of you who wrote to the "Comments from Folks Along the Way." Thanks for signing the "Student Guestbook" (and thanks to Sara Wasson and the Powell County Schools for setting it up.) Thanks to all of you. To all of us. Joe is the star of this adventure but the trip was about all of us- and our truly blessed and wonderful country. Thank you.
You are invited to welcome Joe home as he rides into Beattyville tomorrow and into Stanton on Saturday as part of the Pedals and Blooms Bicycle Festival. He will be glad to see you. For more info, see www.cyclethegorge.com.
June 16
And last, but certainly not least, THANK YOU, JOE! Thanks for taking us on an amazing adventure. Ride, Joe, Ride! It was great.
---
Now, you can go back to the top of the page and re-read about the Homecoming. Thanks, Folks. And Thanks again, Joe.
---
In order to make life easier for those of us with dial-up internet connections, the daily updates are divided into sequential Stages.
You may follow the earlier stages of the trip by clicking the Links in the left hand column at the top of this page.
a project of The Appalachian Heritage Alliance