This is the main page for Joe's "Stories from the Road."
Stories on this page are from the final months of May and June 2006. Click the links in the left hand column for stories from previous months.
---
Current Month - June 06
June 41 (on the amended calendar)
All Roads Lead to Home, Ride, Joe, Ride!
For nearly two months I have not looked forward to making this last entry in RIDE JOE RIDE. In fact, my number one partner in this endeavor has encouraged me on many occasions to set down just one more narrative to complete the trip. So, to finish the ridejoeride 14,000 mile bicycle trip means that I have to write one more time. I even find myself delaying it now.

Making this last entry means that the bicycle trip is really over. Before I got home I was anxious to be with my family and friends. Now I am home enjoying all the family, my wife, Barbara, and all the grandchildren. And of course our children, too. But there is also that longing for the road that had again become my life on the bicycle after the 38 years since I had been out there the first time.

I lost the use of my computer, I believe, in Illinois. Since then I ventured into the lives of Wilbur and Orville Wright by visiting their birthplaces and the places where they owned a bicycle store and then invented the first airplane in the Dayton, Ohio, area. I was thrilled to feel the wind blowing in my face while flying in the open air Wright B Flyer. I know that I have much overused the word "awesome." But even so, it was awesome flying in the Wright's first airplane sold for public use. It was an exact replica.

Next, I got a grand visit by my sweetie, Barbara. She stayed with me a couple of days. I then pedaled back across Indiana. I went out of my way to visit what is supposed to be the longest covered bridge in the US. Coming out of the west end of the bridge I realized that three bicycle riders were entering the east end. I waited. It was Joe Ward and two friends from Louisville. I had not seen Joe Ward, who was a business writer for the Courier Journal, in a long time. In 1971, Joe did a story about me and the first bicycle trip in the CJ and credits me with getting him into bicycles. For over thirty years he commuted to work on a bicycle and covered over 50,000 miles. That day was a great reunion. They rode with me for over 25 miles. I then went on to Bedford, Indiana, to see my brother in law, Jimmy Goodman. He wasn't home. So Jimmy, the next time I come through on a 14,000 mile bicycle trip - stay home.

After a visit to Abraham Lincoln's childhood home in Indiana I headed homeward towards Kentucky. I saw the towers of the William Natcher Bridge that crosses the Ohio River long before I got there. The bridge is new and a spectacular engineering feat. Riding up the approach I felt myself getting nervous. I was finally coming back to my Kentucky. Pedaling across the mile-long span I could almost feel the power of the silver cables that suspend the deck. In the distance I could see KENTUCKY on a sign. Closer, I could read UNBRIDLED SPIRIT under the KENTUCKY on the sign. I stopped and photographed a beat up and ragged ROCINANTE in front of the sign. I had proudly carried the banner of "Kentucky, Unbridled Spirit" all across the United States. Our Governor, Ernie Fletcher, had bestowed the first unbridled spirit award to me before I left Kentucky on the trip.

I spent a week riding across Kentucky; visiting with friends and relatives along the way. My brother JL and his sons, General and Robert, came out and spent some time with me on bicycles. Others came and visited for a few hours. Barbara made her seventh and last visit on the road of the bicycle trip.

And then, on the next to the last day, I rode into the beautiful hamlet of Beattyville, Kentucky. The little town sets up on the banks of the wild Kentucky River. I was in the mountains of Eastern Kentucky. I was treated like royalty by the local people. They were having a street festival in my honor.

Barbara and I were put up in the beautiful and elegant Paw Paw's Landing Bed and Breakfast. What a place! Barbara let me know that she and I were coming back there for a longer stay later on. The next morning at daybreak five great young Kentuckians met me to escort me into Powell County and on to Stanton. My bicycle escort was grandson Caleb Crabtree, brother JL Bowen, cousin Brian Billings, son in law Parnell Lowe, and long time family friend Hondo Hearne. I rode in the back of the pack. What a sight and thrill watching my people in a bicycle train making its way down below the cliffs of the middle fork gorge of the Red River. It wound its way down the mountain highway on past the Natural Bridge State Park and then into the Red River Valley. We bypassed the main part of the Red River Gorge but we rode over half of the Red River Gorge Scenic Byway. An experience of a lifetime after 14 months and over 14,000 miles on a bicycle throughout this great country of ours.

After a couple of hours we arrived at the Drive In Theater, one mile from Stanton. There, the bicycle train that was carrying me stopped for a break and we met up with over 100 children who had been on the ridejoeride on-line bicycle educational adventure with me for over a year. They were on their bicycles and were ready with local fire trucks to escort me into Stanton to end the bicycle trip. In just a short time we were on the road again. This time it was a slow ride with a lot of wonderful Eastern Kentucky children who had impressed me for months about how much they knew about the United States and the creative projects that they had conducted during the trip. We talked and visited on that last mile. There just wasn't time to talk to all of them individually. But I want each and every one of those beautiful, wonderful, intelligent Eastern Kentucky children to know how proud I am of them.

We rode to the Powell County High School and there the big trip ended. Soon I was taken over to where the big bicycle races were to begin and I was given the honor of starting the bicycles on their races through our rugged mountains and the Red River Gorge. But before the races started I was to listen to a good friend, Judy Schircliff, say a few words. I wasn't sure what part she was playing since she is not an avid bicycle rider. She made a few remarks and I could tell she was enjoying herself. And then she turned to a large, draped object on a table that needed to be unveiled. It wasn't until then that I understood what was happening. She and her husband and children were presenting the community with a large plaque about me. I wasn't sure that was appropriate but it was certainly about to happen.

They pulled off the veil and I was in shock. I acted kinda stupid. (editor's note: no, he didn't.) In fact, I embarrassed myself with my reaction. (editor's note: no, he didn't.) I have a great interest in bronze statuary. During the trip I had visited and photographed over a thousand bronzed structures across the US. And now I was looking at my own image on a bronze plaque with my beloved Nada Tunnel in the image with me. The Nada Tunnel is a 900-foot-long hole through the mountain that marks the entrance to the Red River Gorge.

But what was written on the plaque was the most important to me. I was so overwhelmed that I couldn't read it at the time. But later I did and this is what was written:
In 1967, upon discharge from the US Air Force, a 23 year old Joe Bowen decided to discover America by riding a bicycle 14,000 miles from California back to Powell County where he was born, raised and continues to reside.

In 2005, at the age of 62, Joe repeated his ride to see how his country had changed.

The life between these two milestones is made up of extraordinary moments in an exceptional life filled with unending curiosity, childlike wonder and unwavering belief that anything is possible. Joe has made many contributions over the years - most of which started with others saying it couldn't be done.

Never a wealthy man, Joe once said he has lived the life of rich man without the burden of money. He is an "average Joe" made unique by believing in the power within himself and of the human spirit. Each journey shared is a chance for us to discover within ourselves the spirit waiting to be unbridled and set free - to hope, dream, and believe.

Thanks Joe - What a ride!!!!! JS 2006
After that and a few words the bicycle races were started and I walked to a fire engine red helicopter. Once aboard I was flown through my beloved Red River Gorge with photographer friend Tim Webb while we watched the first awesome bicycle race through our mountains. Later, I was taken to Beattyville and watched the race come down main street. Then, back on the helicopter we watched more of the 80-mile race as it climbed into the Furnace Mountain Area. I was flown back to Stanton where I spent the rest of the weekend with friends, my daughters, sons, sons in law, grandchildren and my wonderful Barbara Jean.

Thank all of you who had a part of the bicycle journey. Thanks to the people that helped pay for it. Thanks to the people who met me out there on the trip and fed me or gave me a night's stay in your homes. Thanks to those who shared your awesome American Stories. Thanks to my wonderful family and friends for putting up with me. A special thanks to Mark and Mary Kindall who were my very first sponsors and who I have completely forgotten to thank until now. Mark and Mary, you believed in me all along and I am sorry that I had forgotten to mention your name with all the other generous people who helped make this possible. And thanks Mark and Mary for coming to the Red River Country to witness the ending of the trip. Thanks to all the people who wrote about us and the Red River Gorge during the trip. Thanks to the newspapers, magazines, radio stations and television stations for covering our story.

A special, incredible, unbelievable, thank you to my partners in RideJoeRide, David and Janine Musser.

And most important, Thanks to God for carrying me home safely.

Sincerely, and with all my love and appreciation, Joe Bowen
---
Following are pictures from Joe's Homecoming in Beattyville and Stanton at the Pedals and Blooms Festival sponsored by TOUR Southern and Eastern Kentucky (www.tourseky.com) and the Red River Gorge Scenic Byway (www.byways.org)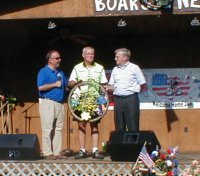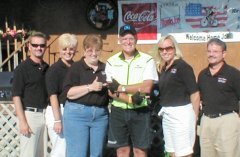 Welcome Home Ceremony in Beattyville and the staff from SEKTDA.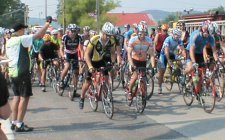 Joe starts the race in Stanton.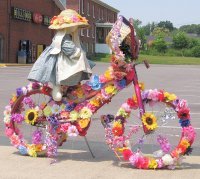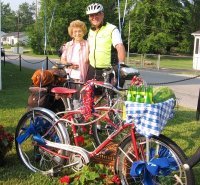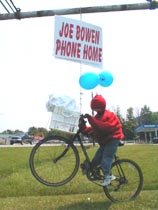 Bicycle decorations in Stanton.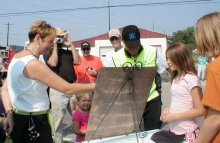 Plaque Presentation by the Shircliffes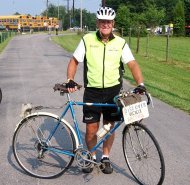 This is the bicycle Joe rode on his first 14,000 mile trip. It is normally on display at the Red River Museum in Clay City.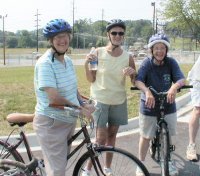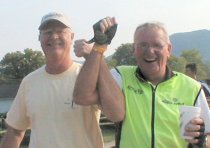 Community riders. Don Joe Quixote and Sancho David Panza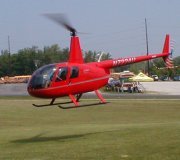 After the start of the bicycle race in Stanton Joe was helicoptered to Beattyville to escort the racers through town. Cool.
---
Editor's note: As you know, Joe's computer has been down for some time and he is way behind on his "Stories from the Road." He is pretty busy at the moment with the Welcome Home festivities surrounding the Pedals and Bloom Bicycle Festival. However, he will do a trip summation story as soon as he can. His family and friends have been a big support throughout the trip and he has some pictures of them taken in the last little while he wants on the web. So, here is how we will do this "Story from the Road"- You are going to use your imagination to fill in what Joe would be saying about the picture. When he has time, he can come back and edit. The pictures are in chronological order in reference to the final days of the ride.
---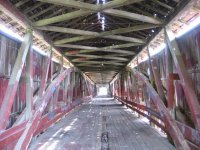 OK. So this isn't a family picture. It's inside the longest covered bridge in the US near Medora, IN. It was a good shot and needed to go somewhere.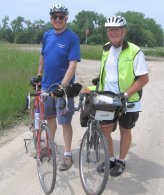 Coming out of the bridge, Joe unexpectedly met a friend, Joe Ward. These two guys are major figures in Kentucky Bicycling.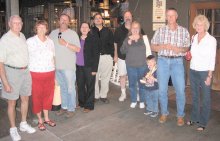 The Bowens and Neals. Kinfolks from Middletown, OH.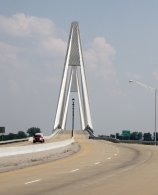 Entering KY on the Natcher Bridge. Joe has developed a pretty good eye for photography. Of course, he has practiced 14,000 times on this trip. Averaged a picture a mile.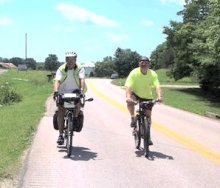 Joe and J. L. Bowen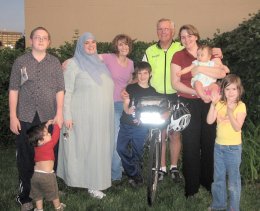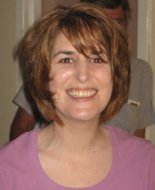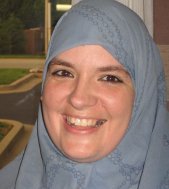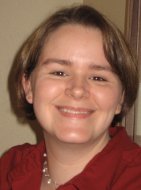 Here, you will have to imagine Joe bragging on his girls, Shawna, Lonna, and Natalie. Then, you have to imagine him bragging on his grandkids. No doubt, that will take a good portion of the rest of the afternoon.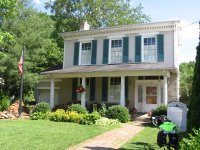 Joe's house in Taylorsville.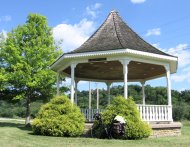 This is the gazebo Joe bought and with Taylorsville friends, restored. It was donated for public use. It's a good story and I hope he tells it sometime.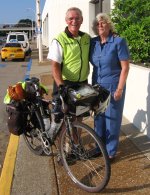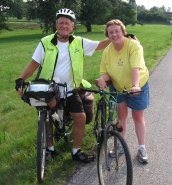 Joe with our good friends Brenda Crabtree and niece Stephanie Bowen in Frankfort.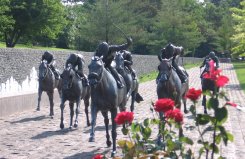 This is a nice shot of Thoroughbred Park in Lexington. It's not Joe's fault that the horses are racing in the wrong, clockwise, direction.
Cool!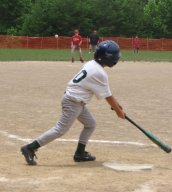 Grandson Caden Crabtree. Notice the ball. It's out-a-here.
---
Current Month - May 06
May 13
Homesick, Lincoln, Field of Dreams, Growing with Faith
I am very aware that the 14,000-mile bicycle trip is winding down and coming to an end. I'm in Springfield, Illinois, today with 12,450 miles on my odometer. I look at that number and realize that I am nearing my 63rd birthday and I can't believe that I have actually done this again. Several months back I told a TV reporter that in some way this bicycle trip has been a confirmation that I actually did ride a bicycle 14,000 miles a very long time ago. And a confirmation is one thing that this has been.

I am homesick. Does that sound a little out of character? Well it is true. And I am most homesick to be with my Barbara Jean working in the garden, doing chores around the barn and sometimes just spending three hours eating breakfast and just talking about everything. She is the one major part of my life and she brings a lot of good stuff to the love we have between us. And I have missed our five children and their sweethearts and our nine grandchildren.

Recently, I received messages from our grandchildren. Caleb has informed me that we need to buy a new riding lawnmower so he can do a better job mowing the yard around our 100-year-old tobacco barn. Now, I need to tell you this is no ordinary barn. There are 1100 square feet of it completely re-finished and modernized to house specifications. That is where we congregate for family dinners at Christmas and special occasions.

My little grandson in Louisville, Kyle, has informed me that he is staying a month with me as soon as I get home. He told me that he "definitely needed some relief from being around his mother." Kyle is eight years old. And thinking down through the years, I can relate to his problem. And our Caden is having a grand ole time playing baseball. He is nine and good at baseball and basketball. And the youngest, Avery, wants to know when "Papa Joe will be home so we can drink coffee together." His mother doesn't let him have coffee but sometimes Papa Joe forgets. And then there will be more time to love Ross, Shelby, Marlena, Madeline, and Youssef. Boy, I sure hope I have not forgotten the name of a grandchild. I will be in deep, deep trouble.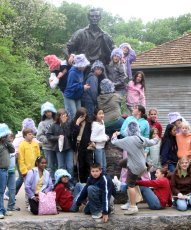 Lincoln with current admirers.
During the last couple of weeks I have been riding mostly in Illinois, The Land Of Lincoln. Believe me, these folks do mean that this is the land of Lincoln. In the last week I photographed at least nine statues of Lincoln. And every town that has a Lincoln story has an excuse to honor him with a statue. I think that is great and it is a part of our American Culture. We honor our heroes as we should and if there is not a hero, we will make one. In Lincoln's case, he was indeed an American Hero to whom we all owe a lot for our freedoms. Thank you, Mr. Lincoln, for being an example of what it means to be President of the United States. And everyone that assumes that office should read extensively about what the office meant to you.

When I got to Dubuque, Iowa, I learned that I was just 25 miles from the movie set of Field Of Dreams. I just had to take an extra day and go there. I even took the alternate route, a three-mile gravel back road out in the open Iowa countryside, to get to the farm. The movie has always been important to me as it has with a lot of other people around the world. While I was there I met some school children from Wisconsin who were fascinated about this old man riding a bicycle 14,000 miles- twice. I told them that the saying in the movie was true; "If You Build It, They Will Come." I told them that if they build a good life for themselves that a lot of people will come and help them. People will come and help them fulfill their dreams. And I know that the statement is true. In every project that I have started, people have come out of the woodwork to help make it come to pass. It is true. They will come...and they will help you. So build a good life, my friends, and especially you young friends and you grandchildren, too. I love all of you.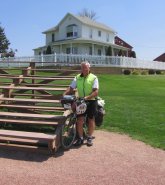 Joe asks the kids on the Field of Dreams if he can play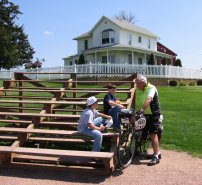 Well, mister, it's really cool you ride your bicycle into congressmen's office and state capitols and all, but if you want to play baseball, you simply have to get off your bike.
This is just an observation that I must pitch in. Last year when I rode the bicycle across Washington State I watched the wheat farmers prepare the good earth and plant the wheat. Then as I slowly traveled across their part of Earth I watched the seed sprout. Then I watched it grow day by day. Then late in the summer in Colorado I watched the big combines crawl across the wheat lands and harvest their crop.

Since riding into Ohio I have watched the farmers again prepare the soil and then plant the seeds. This time it is corn. And I watched the corn push up through the Earth. Now, going east across central Illinois, the corn is six inches tall. Before I get home in 36 days the corn will be maybe six feet tall. I will be with Barbara to watch them put it in the drying cribs.

And as I have watched this process I know that those farmers have no guarantee that those seeds will sprout. There is no guarantee that there will be enough rain. And if they watch it mature there is no guarantee that storms and wind and hail will not destroy it before it is harvested. That too is America, folks. It takes a lot of faith and a great love of rich dirt to do this year after year and generation after generation.

And as I ride the bicycle across the flat land that grows that precious golden corn and wheat I know instinctively that there are farmers and wives who get in their pickup truck late in the afternoon and drive out to see how much those little green stalks have grown in the last few days. I really understand the spiritual experience of a farmer watching his and her plants grow. And folks, if they didn't, there would be an awfully lot of people in this world that would go hungry.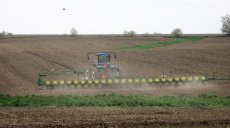 These farmers plant many rows of corn in a single pass
Seeing America at ten miles an hour from the seat of a bicycle is awesome, folks. I just know that I have been blessed. Very, very few individuals get to visit with so many of our wonderful, amazing, diverse but unified, American people and see their beautiful well-worked farms, their soaring mountains and their mighty rivers. Very few people will feel the cold rain in their face on a lonely road or see the eagle watching for a fish in the river. It is awesome, folks.

And I am looking forward to visiting with a few more of you in the next 36 days. And watching the corn grow another five feet.

See you in Stanton, Kentucky, on June 17.

I hope and wish all of you who have made this incredible adventure with me can be with me and my folks to celebrate the ending of this trip. Which, after all, will simply mark another beginning.
(editors note: For more information on the festivities surrounding the completion of Joe's trip, go to www.cyclethegorge.com )
---
May 7
Company, Niagara Falls, Felix Grundy Stidger
Hi Folks,

It has been a long time since you have heard from me. I have been having some serious computer problems. Tonight the hotel clerk is letting me use her computer. Hope she doesn't have to run me out of her office. I am in Dubuque, Iowa, and tomorrow I will be going to see the farm where one of my favorite movies was filmed. The movie "Field of Dreams."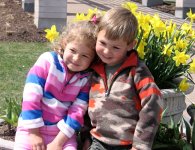 The recent highlight for me was when Barbara, Becki, Parnell, Annell and Avery visited with me. We spent Easter Sunday just being together. I had been dreading spending Easter Sunday alone. That would be similar to spending Christmas by one's self. But their visit was great. I got to see Niagara Falls through Annell and Avery's eyes and that was a treat. I had not visited there since the first bicycle trip in 1968. The family laughed at me when I started telling them all the things that were not there in 1968. Another highlight of their visit was Parnell riding with me. He is great and a powerful bicyclist. This makes his second time to ride with me on this trip. He rode through parts of New York, Pennsylvania, and Ohio. Last summer he rode up the Snake River Valley in Jackson Hole and out the east entrance of Yellowstone to Cody, Wyoming. He could not be closer to me if he was my own son.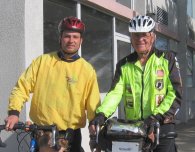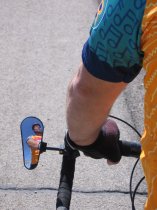 Parnell and Joe. Parnell, front and back.
I visited Holland, Michigan, because of their tulips. It is awesome to see that many tulips blooming at the same time. I know that David told you that I counted them. Technically, it was more of an estimate. They promised 750,000 blooms in their brochure. One company there plants five million bulbs a year. While I was there I ordered 200 reds and 200 yellows. Next spring Barbara and I should have a pretty good tulip show ourselves. You are welcome to come to the end of Bowen Road and see them next spring.

Since I have been on the trip I have had many phone calls to and from my friends Don Pay, Guy Mock and Bill Karrer about a man who saved the United States Government from a takeover during the Civil War. And if not a complete conquest, at least the loss of possibly 100,000 American lives. The man was Felix Grundy Stidger. Stidger was born and raised in my second home, Taylorsville, Kentucky. He infiltrated an organization called The Sons of Liberty who had in place enough firepower, money, and like-minded men to do the job. Felix stopped them. I visited Felix's grave in the Oak Woods Cemetery in Chicago, Illinois. Felix had fled Kentucky after he testified in court in Indiana against successful businessmen and powerful politicians. There was no witness protection plan back in 1864. Because of Stidger's testimony these men were found guilty of treason and sentenced to be hanged by the neck until dead.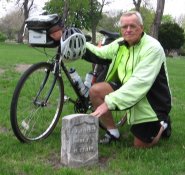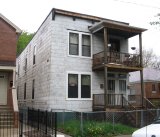 Joe at Felix Grundy Stidger grave. Stidger's house in Chicago
I wanted to visit his grave. It rained the day I was there. His tombstone is a simple limestone block about twenty inches tall and fourteen inches across. You can barely read his name but KY 15 INF (Kentucky 15th Infantry) is easily read at the bottom.

Stidger stopped the takeover that in part was to release 40,000 Confederate prisoners at Camp Douglas in Chicago. They were going to be supplied with arms and ordered to take over the City of Chicago and the State of Illinois.

Now listen to this. In 1895 a monument was erected 300 yards from where Stidger was later to be buried in 1908. That monument sits on a one and one half acre site within the 183-acre Oak Woods Cemetery. And this monument was to memorialize the 4,200 confederate soldiers that died at Camp Douglas.

Stidger had risked his life to keep the confederates from taking over Chicago.

Stidger's home was located four blocks from where that ceremony took place. That day in 1895 President Grover Cleveland was there with 100,000 citizens of Chicago to memorialize those men buried there.

I can just imagine that Stidger, The Spy who Saved our Nation, was there standing in the shadows of a big oak tree. I just cannot imagine what he thought, knowing that he had stopped those very men from overthrowing their Grand City.

I walked over in the rain to the forty-foot tall monument, looked at the cannons and the cannonballs, and the memorial to the 14 union guards who also died at Camp Douglas, and then I walked back over to the little white limestone marker to see the real hero of the day.

It still bothers me. If it is God's will, with the help of the friends that I mentioned above and a lot more people in Taylorsville, we will do a better job of memorializing Stidger for the unselfish work he did for all of us. Somehow, we have got to rebuild his birthplace, put up a statue or two of him in Taylorsville, and then move his body back to Taylorsville, Kentucky, with a full Military Honors Funeral. That is the least that we can do.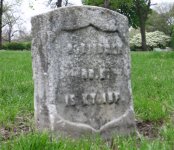 This is the small headstone to mark Stidger's gravesite in Chicago.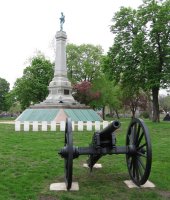 300 yards away is this monument, dedicated to the Confederate prisoners of war at Camp Douglas. If Stidger had not foiled the plot, 40,000 soldiers would have been freed, armed, and instructed to take over Chicago and then Illinois.
During this trip I have found five letters to and from President Andrew Johnson in his library in Greenville, Tennessee about the Star Witness who took down the conspiracy of The Sons of Liberty. Don Pay and I found an original copy of Stidger's autobiography that he wrote and published in 1903. Jane Singer, an author from California, has recently published a book that has a chapter dedicated to Stidger. Mrs. Singer is also the advisor on a History Channel documentary about the atrocities committed by both the north and south during the Civil War. She advised them on the Stidger part. She said that it was incredible to see an actor playing the part of Stidger walk into a courthouse that would have looked like the one where he testified. Angelia Pay found the death certificate of Stidger in the Cook County records in Chicago. Jane Stidger helped me find his grave in Oak Woods.

Stidger is mentioned in newspaper stories of his day all over Indiana and perhaps other places. The Secretary of War at that time, Edwin Stanton, was fully aware of what Stidger had done for our country. When I get to Springfield, Illinois, I will be looking for more information about Stidger.

I have already written more about Stidger than I intended to. He was a brave and patriotic man and we have to do something awesome to recognize him for what he did for all of us.

Back to bicycling. During this phase of the bicycle trip I have witnessed the honors that have been bestowed on another Kentuckian, Abraham Lincoln. I have already seen and photographed several statues of Lincoln. Three of them in the last three days. One in Ottawa, one in Dixon and one in Freeport. I know I will be seeing others. He was truly a great man.

As of today I have 42 more days before I get back to Kentucky. I am really looking forward to seeing my sweetheart, Barbara, and our children and grandchildren and a whole lot of friends.

Until then, God bless all of you.
I will be seeing you soon.

Love, Joe Bowen