Joe's on the road again!
Itinerary of the final 4,000 of 14,000 miles.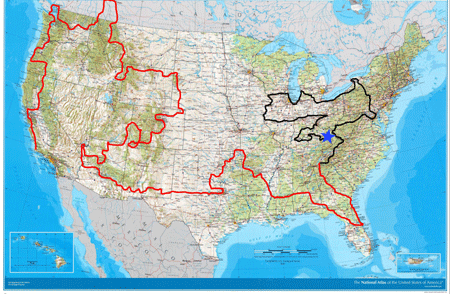 Joe began the first 10,000 miles of his bicycle ride (red line on map) on April 9th, 2005, in Lompoc, CA, and finished on November 19th in Cleveland, TN. He spent the winter working in schools across KY telling students about our magnificent country. On March 11, he pedaled out of Cleveland, TN, to complete the final 4,000 miles (black line on map) of his 14,000 mile adventure.
Please hop on the web page and ride along with him as we follow Joe's truly remarkable adventure. And be sure to write or email him!
Join us for the big Welcome Home Celebration on June 17, 2006!
The following itinerary, like the first, is a blend of meticulous planning, unpredictable weather events, and the serendipitous whims of the rider. It will most certainly change. We will keep you posted on this website of Joe's location.
---
March 11 - June 17, 2006
State
City
Miles
Day
Tennessee
Cleveland
0
Mar 11
Ocoee
18
Mar 12
Ducktown
25
"
North Carolina
Topton
30
Mar 13
Louada
20
"
Cherokee
14
Mar14
Tennessee
Gatlinburg
29
"
Newport
36
Mar 15
Greenville
30
"
Kingsport
35
Mar 16
Virginia
Lebanon
43
Mar 17
Rosedale
10
"
Claypool Hill
12
Mar 18
Tazewell
13
"
West Virginia
War
23
"
Welch
12
"
Iaegar
21
Mar 19
Taylorsville
37
"
Williamson
11
Mar20
Kermit
21
"
Glenhaves
20
"
Kentucky
Louisa
13
Mar 21
West Virginia
Huntington
25
"
Mar 22 - 25 Rest and a car trip to Frankfort, KY, to give speech
Glenwood
23
Mar 26
Point Pleasant
18
"
Mount Alta
14
"
Ripley
9
Mar 27
Spencer
26
"
Stumptown
27
"
Alum Bridge
26
Mar 28
Weston
12
"
Buckhannon
12
"
Elkins
23
Mar 29
Thomas
34
"
Gormania
23
Mar 30
New Creek
25
"
Slanesville
32
"
Paw Paw
16
"
rest days Mar 31 - April 1
Springs
20
Apr 2
Martinsburg
21
"
Harpers Ferry
14
"
Virginia
Leesburg
35
April 3
Arlington
25
"
Washington, DC
Washington, DC
20
April 4
Maryland
Baltimore
50
Apr 5
Owings Mills
13
Apr 6
Westminster
21
"
Taneytown
11
'
Pennsylvania
Gettysburg
23
Apr 7
Mt. Holly Springs
19
"
Carlisle
8
Apr 8
Mecks Corner
22
"
Liverpool
22
"
Mifflinburg
28
Apr 9
Milton
15
"
Dewart
9
"
Williamsport
26
Apr 10
Salladsburg
25
"
Hoytville
25
Apr 11
Littlemarsh
27
"
New York
State Line
18
Apr 12
Hornell
27
"
Garwoods
15
"
Portageville
21
Apr 13
Varysburg
27
"
Batvia
20
Apr 14
Lockport
36
"
Niagara Falls
28
Apr 15
rest days Apr 16 - 17
Lockport
36
Apr 18
Springbrook
29
"
Millard Fillmore Museum
12
Apr 19
Chaffee
16
"
Little Valley
28
"
Jamestown
28
"
Pennsylvania
Corry
30
"
Edinboro
31
Apr 21
Springfield
20
"
Ohio
Ashtabula
14
Apr 22
Painesville
28
"
Menter
11
"
Cleveland
30
Apr 23
Lordin
20
"
Sandusky
33
Apr 24
rest day Apr 25
Fremont
23
Apr 26
Bowling Green
28
"
Napoleon
30
"
Wauseon
14
"
Burlington
10
"
Pioneer
21
Apr 27
Michigan
Homer
37
"
Battle Creek
42
Apr 28
Plainwell
28
Apr 29
Holland
34
"
Dowagiac
56
Apr 30
Niles
15
May 1
Indiana
Michigan City
32
"
Chesterton
15
"
Valparaiso
13
May 2
Merrillville
16
"
Illinois
Frankfort
27
"
Chicago
38
May 3
Wisconsin
Kenosha
53
May 4
Lake Geneva
33
May 5
Janesville
33
"
Monroe
34
May 6
Shullsburg
31
"
Iowa
Dubuque
31
May 7
Sabula
45
"
Clinton
15
May 8
Bettendorf
34
"
Muscatine
28
May 9
Grandview
14
"
Wapello
7
"
Burlington
26
May 10
Fort Madison
18
"
Keokur
26
"
Illinois
Fowler
34
May 11
Mt. Sterling
28
"
Beardstown
27
"
Ashland
24
"
Springfield
21
May 12
rest day May 13
Decatur
40
May 14
Tuscola
37
May 15
Chrisman
34
"
Indiana
Hillsdale
14
May 16
Waveland
28
"
Crawfordsville
17
May 17
Lebanon
21
"
Noblesville
19
"
Anderson
27
May 18
Muncie
17
"
Winchester
24
"
Ohio
Greenville
14
May 19
Piqua
21
"
Urbana
26
"
Irwin
18
May 20
Columbus
25
"
New Rome
15
"
London
25
May 21
Xenia
30
"
Beaver Creek
12
May 22
Miamisburg
20
"
Middleton
12
"
Hamilton
13
May 23
Cinciannati
28
"
Indiana
State Line
28
May 24
Markland
35
"
Madison
24
May 25
North Vernon
24
"
Seymore
12
"
Bedford
41
May 26
rest May 27
Cannellsburg
33
May 28
Jasper
20
"
Lincoln City
25
May 29
Booneville
23
"
Evansville
22
May 30
Kentucky
Henderson
8
"
Owensboro
31
"
rest days May 31 - Jun 1
Hawesville
31
Jun 2
Garfield
27
Jun 3
Elizabethtown
34
"
Bardstown
26
Jun 4
Taylorsville
23
"
rest days Jun 5 - Jun 6
Louisville
35
Jun 7
Shelbyville
28
Jun 8
Frankfort
20
"
Lexington
25
Jun 9
Winchester
20
"
Richmond
32
Jun 10
Berea
15
"
Irvin
21
Jun 11
Beattyville
24
Jun 12
make-up days due to rain, etc. Jun 13 - 16
Stanton
32
Jun 17
---
Completion of the riding portion of Rediscover Bicycle America