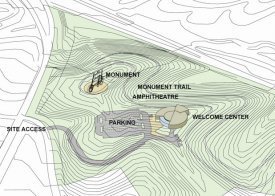 ---
John L. Carman and Associates, Inc., Lexington, KY, conducted a Preliminary Site Study for the Mountain Parkway Trails Corridor, a division of SEKTDA, in 2005 to determine the suitability of the selected site located at the divergence of the Mt. Parkway and Rt. 15 in Wolfe County.

The complete study is on file at the SEKTDA office and with the EKHM Project Director.
The document contains:
---
1) A general overview of the site attesting to its suitability for the project.
a. Visibility.
b. Suitability for planned improvements and elements of the project.
c. Topography would require some cut and fill.
d. Public utilities are available to serve the projected site. Capacities were not part of the study.
e. Electric lines in close proximity.
f. Sanitary sewer is available near the proposed entrance. An extension of the main sewer line up to the proposed building location would be required.
g. A four-inch water line crosses the property.
---
2) A Base Level Ecological Study conducted by Third Rock Consultants, Lexington, KY that concluded:
a. The site contained potential summer roost habitat for the Indiana bat and that further inquiry would be required to determine if the bat was indeed present. (editor's note- This rare bat is only present in the summer and all woodlands in the region would fall under the same considerations.)
b. "A small cliff line is present on the northern border that represents a potential habitat for the Virginia Big-eared bat. The cliff line is not directly related to any of the on-site improvements and should not have any direct impacts."
---
3) A Phase 1 Environmental Site Assessment that concluded there are no environmental concerns on the site.
---
The bulk of this half-inch document consists of the data collected to support the above conclusions.
---
Note: The overall vision has expanded to include the adjacent 15 acres to the east of the original proposal. This property has approximately 5 acres of bulldozed level ground. This would provide ample space for parking, better access, and a ready-made site for the Information/Celebration Center.
---