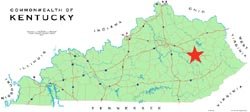 The location for the Monument is in Wolfe County at the divergence of The Bert T. Combs Mountain Parkway--the undisputed lifeline to Eastern Kentucky--and Route 15 in Campton. This is the only location that benefits and represents the entire region equally. This location is both the geographical center of Eastern Kentucky and the "Gateway to the Mountains.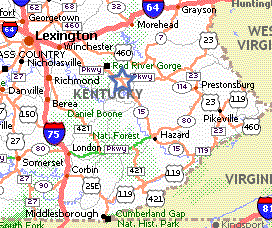 This location is the final point in common to any traveler continuing into the mountains. The Mountain Parkway carries people onward to Salyersville, Prestonsburg, Paintsville and Pikeville. Route 15 carries people to Jackson, Hazard, Hindman, and Whitesburg. A location of the Monument along either route would exclude half of the region and thereby exacerbate our regional problems rather than help solve them.
Slade Hill, at the Powell-Wolfe County border, marks the beginning of the Appalachian Mountains. Any point prior to this, though regionally affiliated with Eastern Kentucky, is geographically and geologically associated with the "Bluegrass" or the "Knobs." For Tourism to prosper in Appalachian Kentucky, it is essential to entice visitors over Slade Hill and onto the Cumberland Plateau.
The Eastern Kentucky Heritage Monument at the Mt. Parkway - Rt. 15 location opens the door to all of Eastern Kentucky. Everyone in Eastern Kentucky benefits. No one is left out. Everyone wins.
---