Hazel Green Academy
Life Long Learning Center
1998-2003
Although the title, Life Long Learning Center, proved to be overly ambitious we are very proud of our accomplishments in the five years we operated. The facility was renovated and maintained by the Christian Appalachian Project. The Wolfe County Arts Association managed the facility and provided programming with the support of the Steele -Reese Foundation. It was a great run.
The Hazel Green Academy Life Long Learning Center was committed to providing high quality educational, artistic, cultural, and spiritual opportunities for the people of the community, the region, and beyond.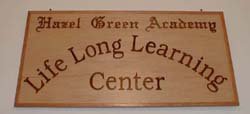 While at Hazel Green Academy, our programming served approximately twenty-two thousand people. Young people represented almost half that number. These numbers do not reflect the patrons of the Jot 'em Down store or the Mobile Health Clinic.
The following report contains a complete listing of the Wolfe County Arts Association activities at Hazel Green Academy. WCAA events at the Academy prior to 1998 are included to show the the development that culminated in the Life Long Learning Center. This information can also be found embedded in the Arts and Education page and Community page of this web site. It is listed here to give a picture of what occurred at Hazel Green Academy during our watch.
In 2003, The Life Long Learning Center closed when the owners of the facility cast their lot with a religious business organization that received a $3.2 million Faith-Based Initiative Grant. The campus became a retreat for their denomination and now is in need of serious repair.
---
Programs
COMMUNITY EDUCATION: Arts and Humanities, Educational Field Trips, Classes, Workshops and Meetings, Lecture Series, Summer Art Camp, Youth Programs.
COMMUNITY PERFORMANCES: Music, Theater, Chautauqua's
RETREATS: Spiritual Retreats, Mission Groups, Art Retreats, Educational Retreats, Organizational Retreats
JOT'EM DOWN STORE: Thrift store.
EASTERN KENTUCKY MOBILE HEALTH CLINIC: Located once a week on campus.
---
Staff and Volunteers

Darrell Davis,
CAP Facility Manager

Janine Musser, Director

David Musser,
Education Director

Pat Beasley, Jot'em Down Store

Alice Davis, Quilter Extraordinaire
---
Educational Field Trips
We are very pleased with the success of our Educational Field Trips. Our Goal was to present high quality learning experiences for the students of the region provided by professional, experienced individuals and organizations from throughout the state. Our Educational Field Trips supplemented and enhanced the educational goals of the schools as mandated by the Kentucky Education Reform Act.
Our Educational Field Trips served approximately 8,000 students
We served students from seven counties: Breathitt, Lee, Powell, Magoffin, Menifee, Morgan, and Wolfe.
Students from thirty-four different schools were bussed to the Life Long Learning Center.
Forty three (43) Field Trip events.
Dozens of artists, presenters or facilitators.
Forty-two (42) professional performances.
Two hundred and forty-seven (247) student workshops.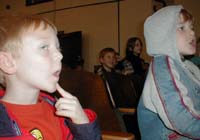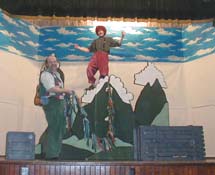 Our field trips were unique in that they addressed specific educational needs of small, precise groups of students. However, we offered such a variety of events that all students were potentially targeted.
We provided a network so that teachers across the region with similar needs could work together. We made a significant breakthrough in that schools from different counties pooled resources and worked together.
We provided much needed Arts Education and supplemented Science and Social Studies.
In our region, the most common venue where students from one county see students from another is at a competitive athletic event. They view each other as adversaries, both on and off the court. At our Field Trips students from different schools and counties were combined. Many of our activities were small-group oriented. This allowed students from different schools to see each other as partners rather than as competitors.
The admission price per student was very low, usually around $3.00. The cost was considerably less than the students would pay for exactly the same performance in Lexington, Louisville, Cincinnati or elsewhere. Since the schools also have to pay for their busses and drivers, our services allowed the students more educational opportunities.
We included Adult Education participants.
We hosted special events for Gifted and Talented students.
Students saw professional theater in a theater setting rather than a gym or cafeteria.
Many mountain students experienced live, professional theater for the first time.
---
Review of Educational Field Trips
Kentucky Shakespeare Festival: "Boy Meets Girl Meets Shakespeare" (annual event, eight performances.) Workshop for high school students based on four selected scenes.
Kentucky Shakespeare Festival:"Shakespeare's Clowns- A Fools Guide" Performed by Curt Tofteland, Producing Director of KSF. (two performances)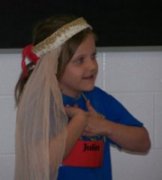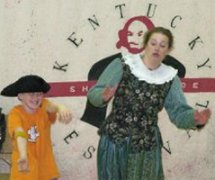 Ballet Espanol: Professional dance company (eight performers, two workshops and one community performance on two occasions) Spanish dance and the contribution of Spanish culture to dance and music. (These field trips were a big deal.)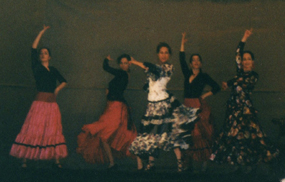 Mary Hamilton- Storyteller:

"Tales of Kentucky and other Stories"

(two performances)

Randy Wilson:

"Stories and Songs of Appalachia"

(two performances) Kentucky Arts Council Artist in Residence. Multi-instrumentalist, singer, storyteller.

Don and Michelle Jessup:

"Chemistry is Everywhere"

(two days, eight workshops) Professional chemists bring a science show to demonstrate the importance of science in the everyday world.

Lexington Children's Theater

: (annual event) Professional Children's Theater
"Pecos Bill and Sluefoot Sue" (two performances)
"Legend of John Henry" (two performances)
"Lion, Witch and the Wardrobe" (two performances)
"Katerina the Clever" (two performances)
"Aesop's Fables" (two performances)
"Jack and the Wonderbeans" (four performances)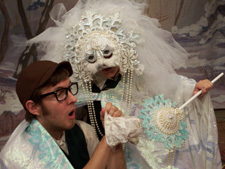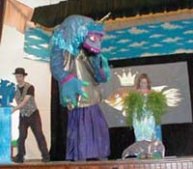 "Hands-On Science Day"

for fourth grade students (three annual two day events, twenty-four workshops per day) with-

University of Kentucky Professor Joe Straley and his

"Physics Petting Zoo."

Mike Lewis,

National Weather Station

Geology with the

Prestonsburg Science Center

Louisville Ballet: "The Artist and the Athlete" (two performances)
Russian Folk Singers and Dancers: "The Veronish, The Old Believers, The Babushkas" (six workshops and a community performance) Three groups and thirty-one artists performing folk song and dance from their native Russia. This was a marvelous event.
Math Day I and Math Day II with the Wolfe County Gifted and Talented Students. (two days, twelve workshops) All day practical math workshops for fifth grade students lead by G&T students.

Mountain Heritage Arts

with Mitch Barrett and Carla Gover four performances)
"Dispelling Negative Appalachian Stereotypes"
"It's Cool to be Appalachian"

Astronomy Days I, II, and III

with the Prestonsburg Science Center, Tom Dant, David Musser, giant inflatable Planetarium, and more. (six workshops)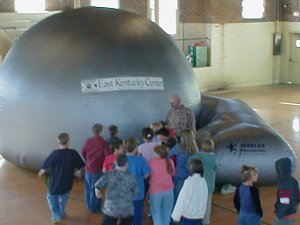 Inflatable Planetarium, crawl on in!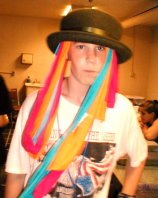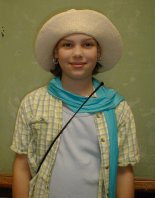 "Drama Day I" (two performances, ten workshops) with Curt Tofteland, Producing Director of The Kentucky Shakespeare Festival and the Drama Department from Wolfe and Morgan County High Schools. Hands-on, interactive workshops for fourth grade students.
"Drama Day II" and "Drama Day III" (two days, twice, forty workshops) Berea College Professors Brenda Richardson and Deborah Martin and their college students majoring in Education and Drama taught hands-on theater workshops to fourth grade students.
"Day of the Arts I and II" with Powell County TAG fifth grade students (two days, ten workshops)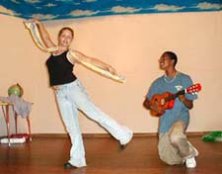 "Hands-On Art" with Morgan County Gifted and Talented students. (five workshops)
Madcap Puppet Productions: "When You Wish Upon a Fish" (two performances) Part of the Cincinnati Art Museum "Hats Off Series." Noted for the very large puppets.
Kosmic Kite Factory: "Don't Drag Your Tail" (four workshops) Aerodynamic principals, kite history, demonstrations and kite building.-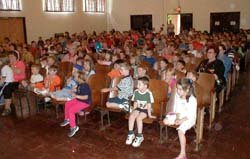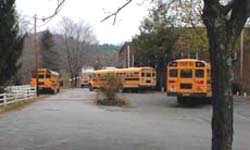 ---
Community Performances
Hazel Green Academy Life Long Learning Center was dedicated to bringing high quality arts performances to the community. Our aim was to highlight and celebrate the Appalachian heritage as well as to feature performers from outside our area. When possible, we tied community performances to other events by, for example, adding an evening community performance to the schedule of a field trip artist. Sometimes, we could schedule a community performance in conjunction with another conference or retreat.
"Ballet Espanol" Spanish Dance Company featuring Mara Maldonado. Eight performers. This performance was in conjunction with a special Kentucky Arts Council grant. A well-known Flamenco guitarist was flown in from New York as part of this performance. Their regular company guitarist is a native Eastern Kentuckian. Ms Maldonado, Principal Dancer, is the only American to have danced with the Spanish National Dance Company.
"Eastbound": Bluegrass Music Concert
"Blue Dawg Band": Bluegrass Music Concert

Kentucky Shakespeare Festival

: "Boy Meets Girl Meets Shakespeare" "Shakespeare's Clowns: A Fools guide to Shakespeare"
Roland Dunn and the

East Kentucky Mountain Boys

Bluegrass Music Concert

Homer Ledford and the Cabin Creek Band

Bluegrass

Music Concert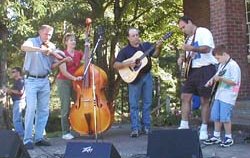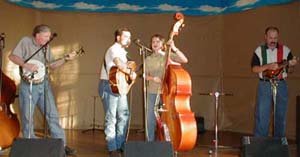 | | | | |
| --- | --- | --- | --- |
| Swift Creek Band | Sam Peck's Back Porch Pickers | Gospel Crossroads | High Fall's Jamboree |
| East KY Mt. Boys | Sam Wilson Band | Lee Allen Band | Lennie Center Band |
| Apple Butter Band | Natural High | Homeplace | Jamie and Jesse Wells |
African Drumming- "River City Drum Corps" (Louisville, three community performances)
"African Drumming and Storytelling": Ajamu Mutima
"Jimmy Cable III": Traditional/Original Music

Jazz Guitar

with Bruce Lewis

"Affrilachian Poets"

African-American Poets from Appalachia. Frank X Walker, Kelly Ellis
Lexington Children's Theater The Wolfe County Arts Association has brought over forty-five performances to area schools, various community locations and to the Hazel Green Academy auditorium. HGA performances listed below. A complete listing is under the webpage "History of Events."
"Katerina the Clever" "Pecos Bill and Sluefoot Sue" "Aesop's Fables"
"Jack and the Wonderbeans" "Huckleberry Finn"
"The Lion, the Witch, and the Wardrobe" "The Legend of John Henry"
James Still, "River of Earth": a reading by the Kentucky Poet Laureate with musical accompaniment by Randy Wilson.
Poetry Reading: Local and Regional Poets
"Swift Creek": Bluegrass Music Concert
"Seven Pounds of Bluegrass": Bluegrass Music Concert. The musicians were elementary and middle school students.
Randy Wilson: "Appalachian Music and Storytelling"

"Where Art Meets Ed"

A weeklong Teacher In-service arts and humanities summer camp held annually for five years. Community performances were held in the auditorium in the evenings.
Angie DeBord River City Drum Corps Mitch Barrett
Jamie and Jesse Wells Kiya Heartwood Miriam Davidson
Zambia Nakumba Samyira Shabaz Paranoix Poor Puppet Theater
Adella, Adella, the Story Tella Randy Wilson Ethel Caffie-Austin
Belle and Buster Show Artie Ann Bates Omope Daboiku
Carla Gover Jeff Chapman-Crane Aziz Diack
Pame Kingfisher Debbie Horton Pamela Oldfield Meade

Jim Webb

: Folk music and Story telling

"African-American Gospel Singing"

with Ethel Cafie-Austin

Cajun Music Concert

with the "Basin Brothers Band"

Gurney Norman

: a reading from his novel "Kinfolks"

Old Time Music Concert

: The Trough Sloppers

Traditional Music Concert

with Duck Baker and Molly Andrews (two occasions)
Berea Puppet Caravan

Rock Music Concert

with "Faded"
"Music Jubilee" oral histories of the region with Kaye Birchfield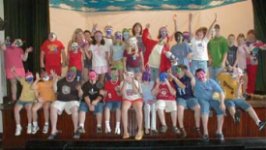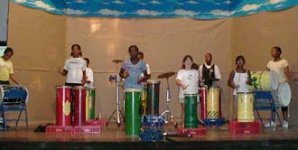 ---
Jot 'em Down Store
The Jot 'em Down store was far more than 'just another second-hand store." It was a center for social activity and a vital part of the lives of many people. The importance of a good second hand store in an economically distressed community cannot be overstressed.
Pat Beasley, an HGA alumnus, managed the store. She and her dedicated staff (all volunteers) understood their clients, knew their circumstances, and treated them with respect.
The Jot 'em Down store was a ministry, not a business. For many people, the store was a part of their routine. It provided relaxation and comfort. Sure, they were looking for a "good deal," but the store was far more meaningful than a clothing bargain. We did not keep a daily count of the number of people served at the store. It was often a very busy place.
We extend a special "thank you" to the many churches, organizations and individuals who contributed to the Jot 'em Down Store. The funds generated from the Jot 'em Down were used to help pay the utilities for the Life Long Learning Center.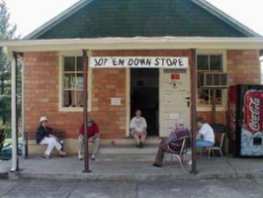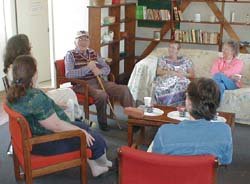 ---
Eastern Kentucky Mobile Health Clinic
Hazel Green Academy Life Long Learning Center, in partnership with St. Joseph's Hospital, and through the leadership of Representative John Will Stacy secured the Eastern Kentucky Mobile Health Clinic for one day a week on the Academy grounds. This facility provides much needed medical services to the community.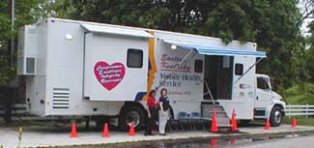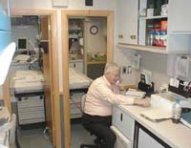 ---
Art Studios
We had five Art Studios: Stained Glass, Pottery, Bookmaking/Paper Marbling, Jewelry, and Quilting.
---
Ballet
We are particularly proud of our ballet class. Our Instructor, Adahli Aranda, was the Director of the Kentucky Ballet Theater in Lexington, KY. We were extremely fortunate to get an instructor of this high caliber. If you took your child to ballet lessons in Lexington, your child would receive instruction from one of Adahli's assistants rather than Adahli herself. Our Ballet Classes were among the best ballet instructions available in the entire state.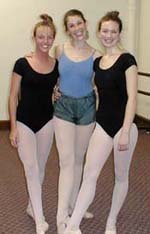 ---
Mission Groups
Mission groups, such as The World Servants, Impact Missions and others, used our facility as base of operations as they helped low income families of the region with home improvements. These groups were often church youth groups from cities across the United States. This was often our guests' first experience of Appalachia. Mission Retreats typically lasted one week and occurred throughout the summer.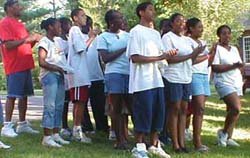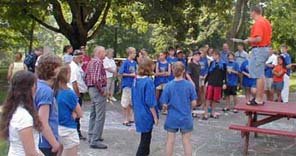 ---
Retreats
The lovely, rural setting of Hazel Green provided a wonderful place for retreats- overnight, weekend, or longer. Our guests could sense part of the one hundred year old history of the Academy. They could almost hear the footsteps of the former students in the halls of the old dormitories. The Academy was a splendid and exalted place for our guests to "get away from it all" and renew their inner health through arts, educational or spiritual retreats.
Gurney Norman

's Writer's Retreat (twelve weekend retreats)
George Ella Lyon and Anne Shelby Writer's Retreat
Appalachian Women's Alliance
Kentucky Writer's Day with Rebecca Bailey
Writer's Retreat with Leatha Kendrick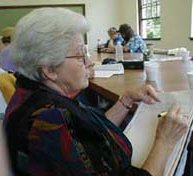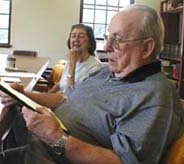 Richard Taylor, KY Poet Laureate- Writer's Retreat
Spiritual Retreat with Father Ralph Beiting
Jeff Chapman-Crane Oil Painting Retreat
Stained Glass Weekend with Maria Lainhart
Women's Wellness Weekends
Alternate Roots Retreat
Traditional Dance Weekend with Gene Boyer
Anne Shelby Writer's Retreat
Berea College Education Majors Retreat
Berea College Upward Bound Program- Appalachian Arts

Sidney Farr

and

Virginia Carney

Writer's Workshop
Crystal Wilkinson Writer's Retreat

Ed McClanahan's

Writer's Workshop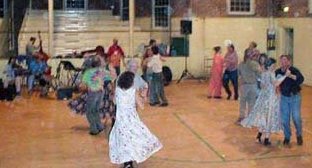 ---
Community Education
The Hazel Green Academy Life Long Learning Center was dedicated to continuing the spirit of Hazel Green Academy's original mission by providing educational services to the people of the region. Our Community Education programming was divided into four categories: Arts and Humanities, Lecture Series, Workshops and Meetings, and Classes. The Humanities Speakers and Chautauqua's were held at the Academy or elsewhere in the community as part of an established Wolfe County Arts Association outreach program.
---
Community Education - Arts and Humanities
Kentucky Humanities Speaker Bureau
Loyal Jones - "Appalachian Humor and Values"
Bill Evans - "History of the Banjo"
Roberta Bird - "Shaker Songs"
Diane Watkins - "Janice Holt Giles"
Lynwood Montell - "Kentucky Ghosts"
Gwen Henderson - "Kentucky Indians"
David Dick – "A Popular Biography"
James C. Klotter on "Is Kentucky Southern?"
Ernie Tucker – "Appalachian Homespun Humor"
Kentucky Chautauqua Presentations

Other
---
Community Education - Lecture Series
"Growing Orchids" with Tom Jennings
"Climbing Mt. Vinson in Antarctica" with Martin Douthitt
"Solar Energy" with Josh Bills (courtesy Organic Gardeners)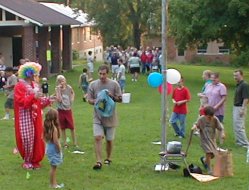 ---
Community Education -Workshop and Classes
Domestic Violence Workshop (Appalshop Roadside Theater and others)
Safety Workshop with Wolfe County Adult Education/Family Literacy Program
Sam McKinney - Clay Sculpting (advanced level workshop)
Stained Glass Workshops with Maria Lainhart I, II, III
Living History Gathering at the Jot 'em Down (two sessions)
Pickin' Place- Old Time Traditional Music
Storytelling Workshop with Kaye Birchfield and Tamara Coffey
Hazel Green Writer's Meeting
World Servants (annual week-long gatherings of students and Mission Groups for community service)
Hazel Green Academy Alumni Homecoming (annual event)
Wise Village Workshop
Arts at the Academy- Annual showcase and demonstrations by local artists
Camp Create I, II (four day children's summer Art camp)
Early Childhood Workshop for CAP Employees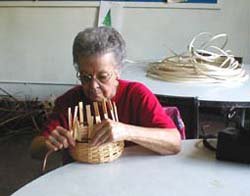 WCAA Meetings and Board Meetings
Appalachian Heritage Highway Meeting
CAP Safety Meeting
Quilting Workshop (weekly)
Mountain Parkway Corridor Tourism Meeting
Michigan Methodists Volunteers (two weeks)
Kentucky Arts Council and Arts Kentucky Meeting
Various Family Reunions
Various meetings for local groups
"Coffee, Tea and Poetry"- A Reading By Rebecca Bailey
World Servants Community Carnival
Jewelry Making – Saturday Session
Basketmaking – Saturday Session
Paper Marbling and Bookmaking with Clara Keyes – Saturday Session
Beading with Janine Musser
Organic Gardners
Painting Workshop with Al Corrnett
---
Community Education - Classes
Ballet Classes with Kentucky Ballet Theater (three age divisions)
Table Tennis instruction with Byron Risner
GED
Yoga with Renee Powell
Stained Glass with Maria Lainhart
Hazel Green Academy Quilters
Basket Making- Round Bottom Basket with Janine Musser
Basket Making- Egg Basket with Janine Musser
Dream Maker with Pearl Morris
Candle Making with Pam Meade
Fiddle with Jamie Wells
Fiddle with Greg Moore
Children's Music with David Musser
Dulcimer for Fourth and Fifth Grade Students
Children's Art with Kaye Birchfield
Photography with Joe Boone
Stone Carving with Fred Ostrem
Jewelry Making with Susan Tipton
Creative Movement with Dale Gutman
Mandolin and Fiddle with Don Rigsby
Old Time Banjo with David Musser
Dulcimer with David Musser
"Mommy and Me Pottery" with Sandra McGuire
Pottery with Janell Osbourne
Ornament Making
Pottery with Sandra McGuire
Egg Painting with Renee Powell
Christmas Wreath Making with Tom Jennings
Drawing with Chris Nolin
Watercolors with Catherine Wells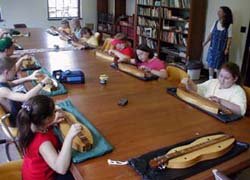 Knitting with Renee Powell
Theater Games for Children with Brannin Musser
Children's Art Classes with Tom Dant
Drawing with Debi Horton
Quilting with Betty and Alice
Aerobics Classes
Song Writing with Kiya Heartwood
Karate
Drawing with Ava Risner
Creative Writing with Becky Bailey