Appalachian Music
Local and regional musicians performed Bluegrass, Traditional Old Time, Native American, Folk, Gospel, Country and Rock music. Also, musicians from around the country who play Appalachian style music came here to play. Many of the bands listed below played on several occasions. Items with an (*) indicate a school and a community performance.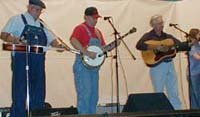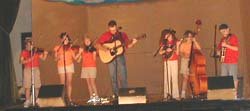 | | |
| --- | --- |
| Roland Dunn and the East Kentucky Boys | Seven Pounds of Bluegrass |
| Jim and Leslie Cable | New Coon Creek Girls |
| Reel World String Band* | Glen Duff's High Falls Jamboree |
| Homer Ledford and Cabin Creek | Gospelway Singers |
| J.P. Fraley | Swift Creek |
| Zoe Speaks* | Carrie Norris |
| Lee Allen Band | Randy Wilson* |
| Blue Dawg Band | Kiya Heartwood* |
| Wishing Chair* | Stealing Horses* |
| Duck Baker and Molly Andrews | Ethel Caffie-Austin* |
| Richard Jett's Town and Country | Sam Peck and Back Porch Pickers |
| Sam Wilson Band | Lennie Center Band |
| Homeplace | Natural High |
| Erica Chambers and James Overbee | Dean Osborne and Eastbound |
| Jim Webb* | John and Jane Harrod* |
| Mitch Barrett* | Midnight Mockingbirds |
| Faded | Clyde Davenport and Bobby Fulcher |
| Bruce Molsky | Dirk Powell |
| Rafe Stephannini | Trough Sloppers |
| James Leva and Carol Elizabeth Jones | Brad Leftwitch |
| Michael Jonathon* | Gospel Crossroads |
| Tom Bledsoe and Joy Deleia* | Rich Kirby |
| Pow Wow Dancer - Jeff Hatmaker* | Sue Massek* |
| Carla Gover | |
---
Music from Outside the Region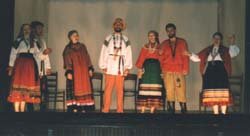 Musicians from Spain, Mexico, Russia, Nigeria, Canada, first generation Americans from several Middle Eastern Countries, and musicians from across the country have played in our community.
Russian Singers and Dancers*


Three groups. Twenty-one artists.

Ballet Espanol*


On two occasions.

Samyira Shabaz
Zambia Nakumba
River City Drum Corps*


From Louisville. Nine performances.

Basin Brothers Cajun Band
Ajamu Matima*


African Drumming

Catherine Anderson - Harpist
Ben Griffith - Accordian
Christine Balfa - Cajun Music
Salaam - Music from the Middle East*
Bruce Lewis - Jazz
Omope Daboiku


Nigerian music.

Bobby Bridger


Music and stories from the Wild West
---
Kentucky Humanities Speaker Bureau
and AHA Lecture Series
Loyal Jones


Appalachian History and Values

Bill Evans


History of the Banjo

Roberta Bird


Shaker Songs

Diane Watkins


on Janice Holt Giles

James C. Klotter


Is Kentucky Southern?

Lynwood Montell


Kentucky Ghosts

Gwen Henderson


Kentucky Indians

David Dick


A Popular Biography

Ernie Tucker


Appalachian Homespun Humor

Richard T. Jennings


Growing Orchids

Martin Douthitt


Climbing Mt. Vinson in Antartica

Josh Bils


Solar Energy
---
Kentucky Humanities "Chautauqua" Series
Lilly Mae Ledford


portrayed by Sandy Harmon

Simon Kenton


portrayed by Mel Hankla

John C. C. Mayo


portrayed by David Hurt

John Breckinridge


portrayed by Duane Murner

Mary Breckinridge


portrayed by Carol Crow

Jesse Stewart


portrayed by James Lowe
---
Other Community Performances
Community Performances primarily related to school events, and there were a lot of them, are listed on the Arts and Education page.
Author James Still: "River of Earth," a reading with Randy Wilson
Poetry Readings - Local and Regional Poets
A Victorian Christmas with Harolyn Sharpe
Festival of the Bluegrass - 150 elementary students from six schools perform traditional Appalachian music on-stage in front of several thousand Bluegrass music fans. All guitars, dulcimers, hammered dulcimers made by artist-in-residence, David Musser, who taught the students to play.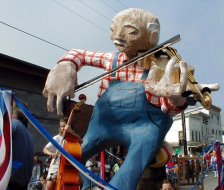 WCAA Float: A Tribute to Local Musicians
Marc Daniels - Juggler
Music Jubilee- Oral Histories from the Region
Works Project Administration / Civilian Conservation Corps: Community Remembrance
First Lillie May Ledford Festival, Gladie, KY (with US Forrest Service)
Elder Arts, Louisville - with Chris Doerflinger. Performance for Nursing Home.
Groundhog Dance w/Richard Jett (annually for three years)
Lunch Concert at the Courthouse w/Randy Wilson
Storytelling at the Projects w/Angie DeBord
Gurney Norman reading from his book "Kinfolks"
Appalshop Roadside Theater
Wolfe County Master Musicians Award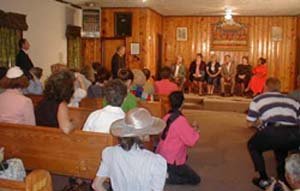 RFK in EKY: Reenactment of Robert Kennedy's historic visit to Eastern Kentucky. Photo from church in Vortex, Wolfe County. (w/Appalshop)
"Coffee, Tea, and Poetry," with Becky Bailey
World Servants Carnival - community service
Appalachian Day at Lexington Public Library: Local artists perform (for two years)
---
Retreats
Community Retreats include Arts, Mission, and Organizational retreats. Most were held at Hazel Green Academy during our time operating the Life Long Learning.
Gurney Norman Writer's Retreat: twelve years of retreats. Multi-state participation.
George Ella Lyon and Anne Shelby Writers Retreat.
Kentucky Writer's Day with Rebecca Bailey
Writer's Retreat with Kentucky Poet Laureate Richard Taylor
Anne Shelby Writer's Retreat
Crystal Wilkinson Writer's Retreat
Writer's Retreat with Leatha Kendrick
Appalachian Circuit Writers Retreats: Five retreats with five prominent KY authors. Please see the Appalachian Circuit Writers web page for more information.
Spiritual Retreat with Father Ralph Beiting
Impact Missions Religious Retreats. Numerous week-long retreats. Participants helped low-income people with house repairs. (8)
Jeff Chapman-Crane Oil Painting Retreat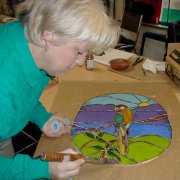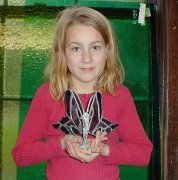 Stained Glass retreat with Maria Lainhart
Traditional Dance Weekend with Gene Boyer
Contra Dance Weekend
Appalachian Women's Alliance
Alternate Roots Retreat
World Servants. Week long Spiritual retreats for students for community service. (15)
Berea College Education Major's Retreat
Berea College Upward Bound- Appalachian Arts (for two years)
Women's Wellness Weekends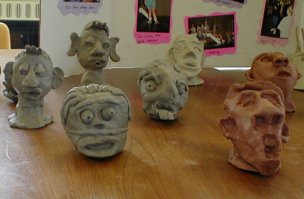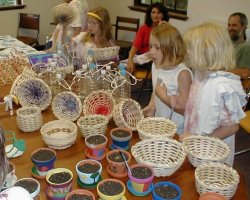 Camp Create. Week-long summer art's camp for children. (three years)
Hazel Green Academy Alumni Homecoming - annual event
Michigan Methodists Volunteers- Spiritual retreat with community service (two weeks)
---
Ballet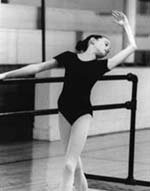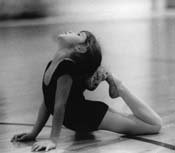 We are particularly proud of our ballet class. Our Instructor, Adahli Aranda, was the Director of the Kentucky Ballet Theater in Lexington, KY. We were extremely fortunate to get an instructor of this high caliber. If you took your child to ballet lessons in Lexington, your child would receive instruction from one of Adahli's assistants rather than Adahli herself. Our Ballet Classes were among the best ballet instructions available in the entire state.
We had three age divisions and the classes lasted for two years.
---
Workshops and Classes - the Arts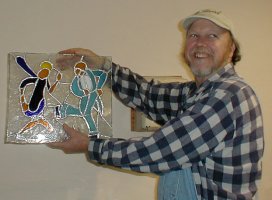 Fiddle and Mandolin with Don Rigsby
Sam McKinney - Clay Sculpting
Quilting Workshops -
weekly
Stained Glass Workshops I,II,III
with Maria Lainhart
Christmas Wreath Making
with Tom and Jeannette Jennings
Karate
Drawing with Debbie Horton
Children's Art with Tom Dant
Knitting with Rene Powell
Egg Painting with Rene Powell
Drawing with Chris Nolin
Pottery with Sandra McGuire
Watercolors with Catherine Wells
Theater Games for Children
with Brannin Musser
Quilting
with Alice and Betty
Song Writing
with Kiya Heartwood
Creative Writing with Becky Bailey
Drawing with Ava Risner
Basket Making - Round Bottom
with Janine Musser
Basket Making - Egg Basket
with Janine Musser
Dream Makers with Pearl Morris
Hazel Green Writers Workshop
Candle Making with Pam Meade
Fiddle with Jamie Wells
Fiddle with Greg Moore
Children's Music with David Musser
Dulcimer with David Musser
Children's Art with Kaye Birchfield
Watercolors with Marlene Strong
Photography with Joe Boone
Stone Carving with Fred Ostrem
Jewelry Making with Susan Tipton
Paper Marbling and Bookmaking
with Clara Keyes
Old Time Banjo with David Musser
Basket Making Saturday Sessions
"Mommy and Me Pottery"
with Sandra McGuire
Pottery with Janell Osbourne
Christmas Ornament Making
Pickin' Place
music jam
Jewelry Making Saturday Sessions
Storytelling Workshop with
Tamara Coffey and Kaye Birchfield
Painting with Al Cornett
---
Workshops and Classes - Other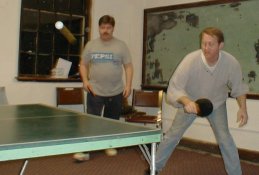 Preventing Domestic Violence
Appalshop and others
Safety Workshop
Adult Ed/Family Literacy Program
Living History Gathering
at the Jot 'em Down
Early Childhood Workshop
CAP employees
Wise Village Workshop
CAP Safety Class
Table Tennis with Byron Risner
Organic Gardners
---
Health Projects
Healthy H' Art: series of arts and movement workshops
Coping with Change through Creativity: addressing women's health issues through arts.
Aerobics Class
Movement with Dale Gutman
Creative Movement with Dale Gutman
Yoga with Rene Powell
Exercise with Kathi May
Helped bring the Eastern Kentucky Mobile Health Clinic to Hazel Green